What are the Different Dental Technician Jobs?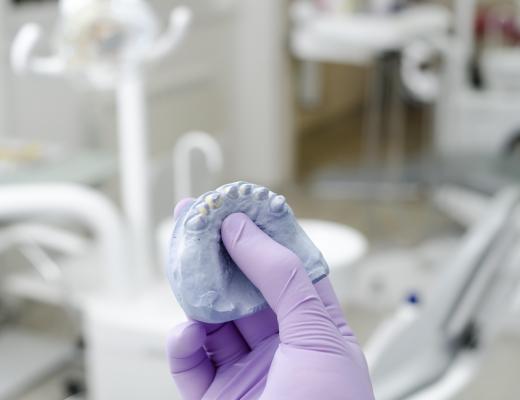 A dental laboratory technician, often known simply as a dental technician, creates prosthetic dental parts, such as dentures and bridges, and appliances, such as orthodontic retainers, according to dentists' orders. Some dental technician jobs involve making many different types of dental parts, while others are more specialized. Training for dental technician jobs is often provided by an individual's employer, although some schools and universities offer degrees in dental technician studies.
In most dental technician jobs, work begins when the technician receives an order for a dental prosthesis or appliance from a dentist. The order usually includes a physical or digital mold of a patient's mouth which has been made by the ordering dentist. First, the technician uses this mold to make a life-sized model of the patient's teeth. After studying the patient's teeth, he uses wax to make a model of the required prosthesis or appliance. This wax model is then recast in metal to which layers of porcelain are added, resulting in a final product that, if well-made, appears to be natural once installed in the patient's mouth by the ordering dentist.
Some dental technician jobs involve creating a full spectrum of dental prostheses and appliances. In other cases, dental technicians may specialize in making one particular type of dental insert. For instance, a technician may only make removable prostheses like dentures, or he may only make permanent prostheses like crowns and veneers. He may also specialize in making orthodontic appliances, such as removable or permanent retainers intended to keep the teeth aligned once corrective braces have been removed.
The environment in which a dental technician works can vary from job to job. Some dental technicians work in large laboratories with many other technicians. Others work in small firms or are even self-employed. Those working for small firms may have more interaction with the dentists by whom they are contracted than those employed by large laboratories.
Training for dental technician jobs is often provided by an individual's employer. In many cases, these employers require candidates to have a high school diploma or its equivalent. Those who wish to have an extra competitive edge when applying for jobs may wish to consider completing a dental technician degree program, which can be found at a number of universities, community colleges, and technical institutes. Normally, these programs take around two years to complete, and graduates are awarded an associate's degree.
By: milosljubicic

Dental technicians create a dental prostheses by using a dental impression of a patient's teeth.

By: Sulabaja

A dental technician may choose to focus on creating permanent prostheses like porcelain veneers.