What are the Different Histology Jobs?
Histology refers to the clinical and scientific analysis of living tissue and cells. Research histologists conduct laboratory experiments to better understand cellular composition and the effects of different diseases or medications on normal tissue. Professionals known as clinical histologists and histology technicians collect tissue samples from hospital patients, check for the presence of diseases or bacteria, and communicate their findings with physicians. Histology jobs can be found in a number of different settings, including hospital laboratories, scientific research institutions, and veterinary clinics. In addition, some biotechnology firms and pharmaceutical companies staff histologists to help in the research and development of new products.
Many highly skilled individuals hold histology jobs in scientific laboratories, where they conduct original research on the molecular components of organic cells and tissue. Research histologists might specialize in studying cell development, morphology, or histopathology, which is the examination of different types of diseases. Histologists often write and publish detailed papers about their findings in science and medical journals. Most professionals in research histology jobs hold advanced degrees in biology, chemistry, physiology, or a related scientific discipline.
Clinical specialists perform detailed investigations of tissue samples obtained from patients in hospitals or medical clinics. Skilled scientists known as clinical histologists or histotechnologists evaluate skin and organ tissue collected from patients with conditions that cannot be diagnosed from physical examinations. They often employ microscopes and chemical staining machines to help them identify diseases, bacteria, fungi, cancer, or other maladies in cellular tissue. Professionals solidify their findings by writing formal descriptions, and report their results to physicians so that official diagnoses can be made. An individual who wants to work as a histotechnologist is usually required to obtain a bachelor's degree in a biological science or medical technology.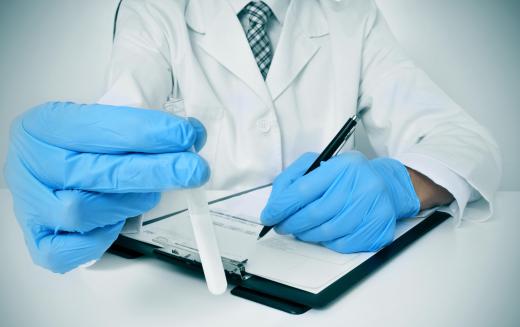 Histology technicians generally work alongside clinical histologists, physically collecting samples and assisting scientists with experiments. Many technicians set up laboratory equipment, stain slides, and relay patient information to histologists. They are often responsible for filling out medical forms, performing administrative duties, and tidying up hospital laboratories. An associate degree is usually sufficient to find employment as a histology technician in most hospitals.
Skilled histologists are also employed in a number of settings outside of hospitals and research laboratories. Some professionals specialize in veterinary services, where they investigate suspicious tissue samples from pets and farm animals. Individuals who hold histology jobs in biotechnology laboratories use their knowledge of cell development and genetics to engineer new medical products and improve testing equipment. Finally, some experts are able to find histology jobs with pharmaceutical companies, overseeing experiments and clinical tests on experimental drugs and analyzing their effects on cellular tissue.
AS FEATURED ON:
AS FEATURED ON:
By: luchschen_shutter

Histotechnologists evaluate skin and organ tissue under microscopes.

By: nito

Histology technicians work alongside clinical histologists, collecting samples and assisting with experiments.

By: Sam Spiro

A hospital might employ histotechnicians to examine biopsy samples.

By: kasto

Histology technicians may need to repeat laboratory analyzation in order to confirm a diagnosis.

By: Monkey Business

Histologists working in a laboratory environment must be able to keep accurate and detailed records of their experiments.

By: Lambros Kazan

Histologists can be employed at pharmaceutical companies.

By: Minerva Studio

Research histologists conduct laboratory experiments to better understand cellular composition.