What are the Different Medical Laboratory Technician Jobs?
Medical laboratory jobs are usually divided into two main types. A medical laboratory technologist, a job that often requires a bachelor's degree, generally acts as a lab manager, which requires operating sophisticated medical equipment, supervising other lab employees, and interpreting lab results. The other type of medical lab job is the medical laboratory technician. This position usually requires the completion of a certification program or an associate's degree. A technician works in a lab or remote facility along side the technologist, collecting samples and analyzing them.
Medical laboratory technician jobs in small labs may require working on all types of samples, depending upon the work flow. Larger labs will usually assign their technologists and technicians to specialized areas where they will perform the same type of work repeatedly. this allows employees to gain a great deal of experience with a particular device or test.
For example, some medical laboratory technician jobs will be based in the area of microbiology. The typical workday might be spent preparing samples of tissues and bodily fluids, and analyzing them for the presence of microorganisms like bacteria and fungi. Other lab techs may specialize in genetic testing of blood samples, while others prepare and analyze routine blood tests for cell counts and cholesterol levels.
Medical laboratory technician jobs can be divided further. Technicians may be restricted to preparing samples and slides, while technologists are given the responsibility for examining them and interpreting the results. In some medical laboratories, technicians and technologists may perform the exact same job functions, while in other labs the job duties will vary with the more advanced procedures being reserved for technologists.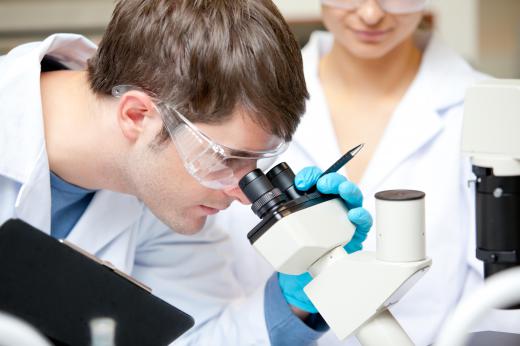 Medical laboratory technologists and technicians alike can narrow their careers into sub-specialties. For example, a lab tech who draws blood samples is known as a phlebotomist. This person could be employed in a hospital, blood bank, or plasma center, or travel to nursing homes to draw blood samples. Other medical laboratory technician jobs specialize in obtaining tissue samples, and are known as histotechnicians.
Presiding over all these medical laboratory technician jobs is the physician in charge of the lab, known as a pathologist. It is ultimately his responsibility to sign off on the interpretation of laboratory results. Medical laboratory technician jobs have the potential to offer a variety of working conditions and job duties over the course of a career. There is potential for advancement into complex specialized areas. There is also opportunity for employment in various clinical settings, including small hospital laboratories, where the technician is responsible for the entire process of collecting the sample from a patient, preparing it, analyzing it, and communicating the results to a physician.
AS FEATURED ON:
AS FEATURED ON:
By: Photoroller

A medical lab technician may be tasked with handling and storing samples.

By: Alexander Gospodinov

A medical laboratory technician who is trained to take blood is called a phlebotomist.

By: WavebreakMediaMicro

Medical laboratory technicians generally specialize in a particular area.

By: ksena32

A medical lab tech may draw blood at a blood bank.

By: perfectmatch

Medical laboratory technician jobs in small labs may require working on all types of samples.

By: .shock

Some medical laboratory technicians may be tasked with maintaining inventory and ordering supplies as needed.