What are the Different Meteorologist Jobs?
Some people may believe that meteorologists only report the weather on television. Closer inspection of this career field reveals that meteorologists perform a variety of jobs. People who pursue meteorologist jobs investigate the earth's atmosphere. They study the way the atmosphere affects various aspects of the environment.
Meteorologist jobs involve using sensitive computer equipment to forecast the weather. Computers, satellites, radar, and aircraft equipment with instruments that monitor the atmosphere are all used by meteorologists to make weather predictions. This arsenal of equipment measures air pressure, temperature, and water vapor so meteorologists can create their forecasts.
Not all meteorologist jobs involve forecasting the weather. Synoptic meteorologist jobs entail inventing new instruments that measure atmospheric conditions. Climatologists, another form of meteorologist, examine historical data relating to rainfall, sunshine, wind, and temperature in specific geographic locations. This data is employed to assist in the planning of buildings and heating and cooling systems. It is also used to help with the agriculture industry.
Physical meteorologist is another type of meteorologist who does not report weather on the local news. These meteorologists study how sound, radio waves, and light are transmitted in the earth's atmosphere. They also study how the atmosphere is linked to the specific way that different types of weather, including tornadoes and hurricanes, form.
People who wish to pursue a career in meteorology must first earn a bachelor's degree in meteorology or another major that relates to this field. Courses in a meteorology program include classes in prediction of weather systems. Other required courses include classes in advanced mathematics such as calculus. Future meteorologists also must successfully complete classes in physics, chemistry, computer science, and statistics. Earning a master's degree provides the future meteorologist with better career opportunities. Candidates who have earned a doctorate degree can land jobs in meteorological research.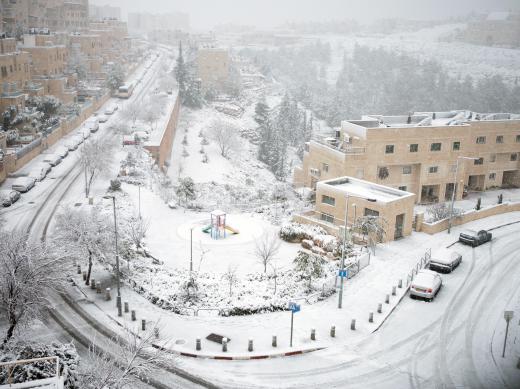 The U.S. government employs the majority of meteorologists in the U.S. The majority of these government workers are employed by the National Oceanic and Atmospheric Administration (NOAA). The NOAA is associated with the National Weather Service. Other U.S. government meteorologists work in the military, the Department of Agriculture, the Department of Energy or the National Aeronautics and Space Administration (NASA).
Meteorologist jobs require that meteorologists work days, nights, weekends, and holidays. Weather monitoring stations are open 24 hours a day, seven days a week. During severe storms or other forms of inclement weather, meteorologists work long hours. Those who work for radio and television stations are examples of meteorologists who work large amounts of overtime during times of weather crises.
AS FEATURED ON:
AS FEATURED ON:
By: maldesowhat

A meteorologist may specialize in specific types of weather formations, such as tornadoes.

By: Burlingham

The U.S. Military hires meteorologists.

By: Yevgenia Gorbulsky

Meteorologists help to predict winter storms.

By: Innovated Captures

Some meteorologists appear on TV.

By: Sami Kallioniemi

Some meteorologists do research work that benefits the agriculture industry.