What are the Different Radiography Jobs?
Radiography is the process of making film records of internal structures through the use of radioactive waves. The radiographer shoots x-rays, gamma rays, or neutrons through an object, where the beam is absorbed unevenly, depending upon the density of the tissue it passes through. The emerging rays register an image, called a radiograph, on photographic film. Radiography jobs are available in several industries, though the primary job market is in the medical field. Jobs range from x-ray technicians, requiring one to two years of training, to medical doctors with various specialties.
Industrial radiography uses x-ray and gamma rays to inspect internal areas of structures for voids, cracks, distortions or other imperfections. Radiography jobs are available in all forms of transportation production, such as automobiles, marine vessels, airplanes and space craft. Nuclear facilities offer radiography positions to technicians who are trained in non-destructive test methods such as magnetic particle (MT), dye penetrant (PT), ultrasonic thickness (UTf), and radiographic (RT) tests. Oil production sites also use radiographers to test welds on oil extraction equipment.
The entry level radiography jobs are usually x-ray technician positions, which generally require certification and at least two-years of college training. Technicians prepare patients for filming and operate x-ray equipment. Knowledge of anatomy and imagining technology is necessary in order to obtain the best pictures. Additional training is needed to operate specialized equipment like magnetic resonance imaging (MRI), computerized tomography (CT), ultrasound, nuclear medicine, angiography and fluoroscopy.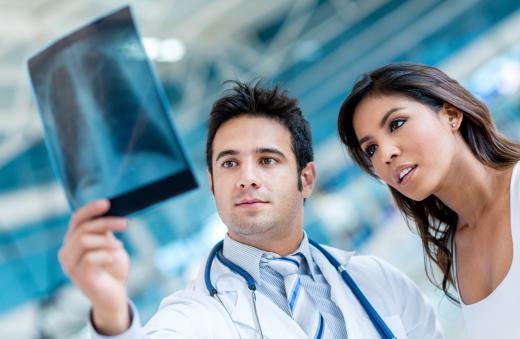 Therapeutic radiography positions are available in almost all aspects of oncology treatment. These technicians, also referred to as radiation therapists, use advanced technology to direct beams of radiation at tumors. This job usually requires at least a bachelor's or master's degree, since a knowledge of physics, biology, anatomy and physiology is required.
Radiographers with good mechanical skills may wish to become medical imaging technical services technologists. The technologist performs quality control testing on radiography equipment, evaluates imaging protocols, and works with imaging systems and databases. These radiography positions require familiarity with applicable regulatory and accreditation requirements in order to make certain that the equipment is calibrated to regulatory guidelines.
A radiologist is a physician whose specialty is in radiography and reads and interprets the x-rays and other tests administered by technicians. Radiography jobs are available to physicians in a multitude of disciplines, ranging from cardiology, to neurology and vascular interventional radiology.
Advances in medical diagnosis, nuclear medicine and therapeutic treatments have created an abundance of radiography jobs. Some countries, like the UK, actively advertise for foreign-trained radiographers to help fill the shortage. If a person is interested in health care work in a cross-cultural setting, training in radiology may offer that opportunity.
AS FEATURED ON:
AS FEATURED ON:
By: Andrey Navrotskiy

A radiographer may operate an MRI machine.

By: Andres Rodriguez

A radiographer provides X-rays to a radiologist.

By: Robert Kneschke

Radiography is frequently used proactively in the dental profession.

By: DNF-Style

Radiographers might perform ultrasounds for couples.

By: Monkey Business

Radiology jobs are available to physicians in a multitude of disciplines, including cardiology and neurology.

By: inkaone

Entry-level radiography jobs are usually x-ray technician positions.

By: grki

Performing ultrasounds is a job in radiography that requires some additional training.