What are the Different Restaurant Management Jobs?
Restaurant manager, kitchen manager, executive chef, and sous chef are the most popular types of restaurant management jobs. Those who work in a restaurant career often put in long hours to oversee the proper functioning of various aspects of the eatery, from the kitchen and dish washing areas to the front of the house and the dining room. Each position has a distinct set of functions and responsibilities and contributes to the overall smooth operation of the restaurant.
A restaurant manager is a team leader for the business. He or she can either manage the front of the house — the dining area and serving staff — or the entire establishment, supervising all of the other managers. In some instances, the restaurant manager will take on both responsibilities. The duties of restaurant management jobs are diverse and challenging. A few duties common to all restaurant managers are customer service, employee scheduling, financial management, addressing health and safety concerns, and maintaining restaurant equipment.
Kitchen manager is a type of restaurant management job that is rarely visible to patrons but an integral part of the dining experience. A person who is kitchen manager oversees the operation of the back of the house portion of the restaurant, namely the kitchen and dish washing areas. Someone working in this position is responsible for ensuring food is prepared to spec; budgeting; guaranteeing health codes are followed; and scheduling cooks, chefs, and dishwashers.
Restaurant management jobs as executive chefs are arguably the most highly skilled of the four major positions. An executive chef has typically attended culinary school and possesses advanced knowledge of food and food preparation techniques. He or she creates menus, designs food presentation, and works closely with the kitchen manager to make certain all specs are being adhered to.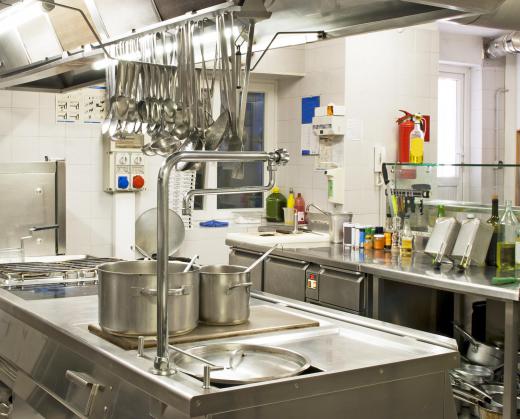 A sous chef works directly under the command of the executive chef. This person is required to be a jack-of-all-trades in the kitchen. He or she may be called upon to fill in for the executive chef, provide backup as a line cook, or assist in management duties.
Though it is traditionally helpful for any type of chef, a degree from culinary school is not mandatory for all restaurant management jobs. Managers and kitchen managers often possess degrees in hospitality, business, or restaurant management. Some restaurants may not require members of management staff to have a degree as long as they have sufficient, verifiable experience working in the fast-paced restaurant industry.
AS FEATURED ON:
AS FEATURED ON:
Large restaurants may hire managers who specialize in purchasing wine.

By: Andrejs Nikiforovs

Hotels often hire managers to oversee their restaurants.

By: atm2003

Kitchen managers ensure that sanitation standards are upheld.

By: Kablonk Micro

Restaurant managers generally work "front of house," interacting directly with servers and patrons.

By: stockyimages

A head chef may create a customized menu and signature dishes based on his area of culinary expertise.

By: goodluz

The executive chef oversees all kitchen personnel and needs to have strong leadership skills.

By: araraadt

In most cases, the restaurant manager at an elegant, upscale establishment typically has longtime experience at fine dining and wine.