What are the Different Restaurant Manager Jobs?
Consumers are often unaware of the amount of management needed to ensure a restaurant operates properly. There are restaurant manager jobs that need to be filled to operate the dining areas and others that are needed to effectively operate the kitchens. Then, there are upper levels of management that are often employed to oversee groups of restaurants within a chain.
There are commonly two different managers on site in dining establishments where customers receive full service. One of these restaurant manager jobs generally refers to overseeing the front of the house (FOH). The FOH manager may also be called the service manager. It is usually her job to work with staff members such as servers, bartenders, and hostesses. There is generally a wide range of responsibilities she has pertaining to these individuals.
The FOH manager will likely be required to be involved in some part of the interviewing process for applicants she will oversee if they are hired. Scheduling and disciplinary actions are often handled by this individual. In addition to working with staff members, the service manager also deals directly with customers. She may walk through the restaurant interacting with them and addressing complaints. She also usually has the responsibility of applying discounts and issuing refunds.
Another of the common on-site restaurant manager jobs regards oversight of the back of the house (BOH). A BOH manager is often referred to as a kitchen manager. He usually works with staff members involved in food preparation and perhaps maintenance. This individual has many of the same administrative duties as the FOH manager.
Additionally, the kitchen manager is usually responsible for ensuring that the restaurant is properly stocked with all of the items necessary to operate on a daily basis. This can include food ingredients, cleaning supplies, and carry out containers. In some instances, he may have to develop or approve menus or daily specials. He should also ensure that food is prepared up to standard before it is served.
Some restaurants have large merchandise departments where they sell items such as signature sauces, t-shirts, and children's items. Such establishments generally require people to fill a third category of restaurant manager jobs. These individuals, known as sales managers, are often responsible for overseeing sales staff, ordering and managing merchandise, and dealing with customers.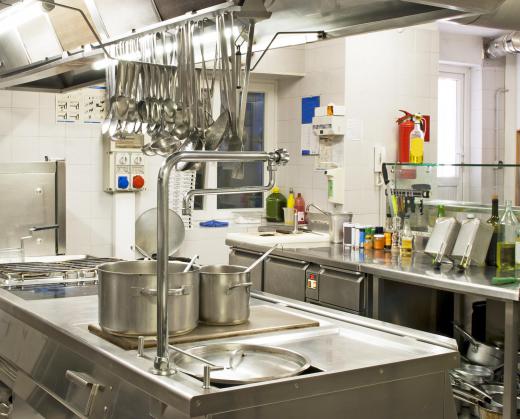 There are restaurant manager jobs that are commonly held by individuals who do not remain on-site. These individuals are commonly referred to as area managers and district managers. Both of these roles generally require travel to numerous facilities and may require an individual to remain at a certain location if there are problems such as low revenues or a large number of customer complaints. An area manager generally exercises responsibility for numerous establishments in a given area, such as a city or county. It is usually his responsibility to ensure that those restaurants are operating as they should and to address problems raised by the managers of those establishments.
A district manager is an overseer of a larger area. It is generally his responsibility to work with a number of area managers to ensure they are effectively doing their jobs. The district manager may report directly to a head office.
AS FEATURED ON:
AS FEATURED ON:
A restaurant manager may oversee the hiring and training of personnel.

By: Andrejs Nikiforovs

A restaurant manager may be responsible for choosing an establishment's decor.

By: naka

A restaurant manager works with various staff members, such as hostesses.

By: atm2003

A back-of-the-house manager manages the kitchen and kitchen staff.

By: Warren Goldswain

Restaurant managers often deal directly with customers, in addition to handling staff supervision, supply ordering and other internal tasks.

By: Kablonk Micro

In most cases, restaurant managers work "front of house," communicating with waitstaff and diners.

By: kmiragaya

Restaurant managers make sure all plates and flatware are properly cleaned.