What Are the Different Types of Advocates?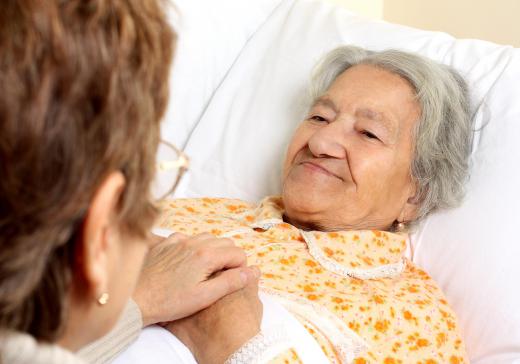 An advocate is a person who speaks on behalf of another individual, organization, or cause. There are many different types of advocates in a wide range of professions, from legal advocates to promoters of a certain faith or lifestyle. In some regions, an advocate is a legal professional similar to a barrister or attorney, but the term may also be applied to a professional or volunteer who works on behalf of a specific issue, business, or entity.
In many parts of Europe, particularly the countries of Scandinavia, an advocate may be a practicing legal professional. Advocates in these regions receive law degrees and may have to serve an apprenticeship under established professionals, in addition to passing a bar examination. These professionals have the right to represent others in court, similar to a barrister in the United Kingdom, or an attorney in the United States.
Legal advocates in other regions may not actually be lawyers, but may be highly trained professionals that assist with legal matters. A child and family advocate may be summoned to assess custody or divorce cases in order to make recommendations to the family or the court about appropriate resolutions. Women's legal advocates may be trained to handle legal issues common to women, such as domestic abuse, rape, divorce, and custody battles. These advocates may be employed by the justice system, but may also work with non-profit organizations that specialize in legal assistance.
Many advocates work for non-profit or charitable foundations, and may work on the behalf of many different causes and social issues. A literacy advocate might seek to improve literacy rates in rural or poverty-stricken areas by volunteering at a library or working to ensure that students have access to books and early education. An environmental advocate might try to help educate the public about global warming or endangered species protection, and provide educational material, sponsor or work at events to raise public awareness, or hold fundraisers to support a cause.
Faith advocates are often volunteers or employees that work for a specific religious sect. Many perform public outreach activities, and may be available to answer questions and provide information about the practices and belief system of their chosen religion. Some faith advocates also work within the church itself, assisting with church support groups, fundraisers, and charitable work in order to assist and enrich the lives of members. Others may serve as missionaries, going to different regions and even foreign countries to help recruit new church members and assist in outreach activities.
By: koszivu

Advocates may work in the healthcare industry.

By: Rob

Advocates may work as counselors to people.

By: Nomad_Soul

Some non-profit advocates work to help ease poverty.

By: Africa Studio

Advocates may speak in public on behalf of a group.

By: LoloStock

Some advocate jobs focus on helping victims of domestic abuse.

By: Piotr Wawrzyniuk

Child advocates help children who are abused at home.

By: JenKedCo

Advocates might work with children to help them develop literacy skills.