What Are the Different Types of Biomechanics Jobs?
There are many different types of biomechanics jobs, ranging from assessing athletic performance to researching human gait. A number of research laboratories around the world specialize in analyzing how the human body moves in different situations, so many biomechanics careers involve scientific research. Other potential jobs include designing human-computer interfaces, preventing athletic injury by correcting biomechanical problems and assessing the gait of people with chronic pain.
Biomechanics is the study of how the human body moves. Whenever a person performs any activity, including something as simple as walking, his or her body must coordinate the movement of a number of muscles. These muscles contract or relax to move bones in what is collectively known as the musculoskeletal system. Biomechanics students need to have a strong understanding of human biology, but they also must be able to apply mechanical engineering principles to the muscles and bones. Most biomechanics jobs require a minimum of a master's degree, while some need a doctoral degree.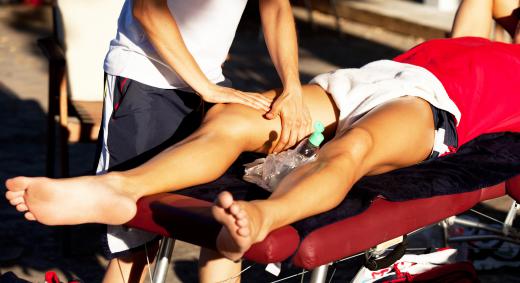 Many people with biomedical or biomechanical qualifications work in the research industry. A lot of research is performed on how the human body moves, and people with a biomechanics degree are in high demand in this field. Assessing and correcting human gait has a wide range of clinical applications, from reducing chronic pain to helping people with certain diseases move more efficiently.
There are a number of biomechanics jobs that involve designing interfaces between machines and humans. This is becoming more important as technological advances make machines more common, especially in industrial situations. Biomechanics graduates who have a deep understanding of how the human body functions are often required to work with this type of technology.
Graduates with a biomechanics degree also can become sports biomechanists. This involves analyzing how the human body functions to discover how to increase athletic performance. Sports biomechanics jobs also may involve preventing injuries, because many overuse problems can be avoided if the body is functioning correctly. Many different sporting organizations, including sports teams, research departments and universities, hire biomechanics graduates.
There are a number of other biomechanics jobs. These include working in laboratories that analyze patients' movement, assessing human strength to decide whether a person is suitable for a particular workplace and even designing prosthetics. The types of biomechanics jobs available to a graduate often depend on his or her experience, as well as the degree attained, so some careers may not be immediately accessible to graduates.
AS FEATURED ON:
AS FEATURED ON:
By: wellphoto

Some biomechanics researchers may study sports injuries in top athletes.

Biomechanical analysis may be used by professional athletes to ensure they are reaching peak performance.

By: Tyler Olson

With clinical biomechanics, the entire gait pattern of a patient who has difficulty walking is examined.