What Are the Different Types of Contract Specialist Jobs?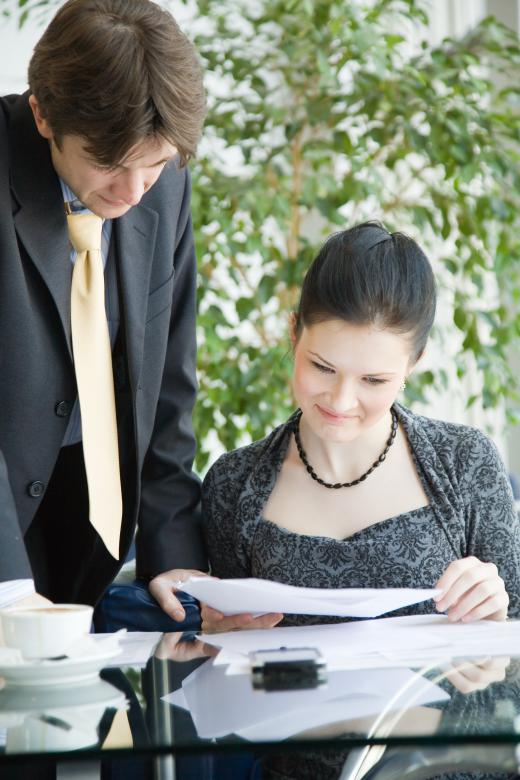 Several types of contract specialist jobs may exist for individuals with expertise in the procurement process of goods and services. Most contract specialist jobs are usually charged with procuring goods and services for a government agency from a private sector business or another government agency. Many contract specialist jobs at the supervisory or senior level are with local or regional government agencies. Some contract specialist jobs are also with a private sector business that contracts services to government agencies.
There are several jobs titles often associated with contract specialist positions. Entry level contract specialist jobs are typically appropriate for recent graduates from a college or university. Government contract specialist jobs are typically within government agencies that procure goods and services from businesses or other agencies. Typically, supervisory contract specialist jobs manage a team of workers charged with completing duties of the contract process. Senior contract specialist jobs are similar to those in the supervisory role, minus responsibility for the workflow of others.
Most jobs for entry level contract specialists provide an opportunity to learn essential duties related to the procurement process and accompanying contracts. People in entry level positions might receive on-the-job training to learn contract terms and processes. Often, no previous work experience is required, and this role could become a career opportunity for a recent college graduate.
Duties related to a government contract specialist usually cover a broad spectrum of responsibilities. Some duties might involve developing submission requirements to bid on providing goods or services to the government agency. A government contract specialist may negotiate and scrutinize contract terms, ensuring legal terms and conditions are in compliance with agency policies. Ongoing duties could include evaluating the performance of vendors with honoring contract terms.
Supervisory contract specialists may direct the workload of other contract specialists during the initial process and after contracts are awarded. This may involve planning the work process, creating solicitations, advising on negotiations, and selecting contract awards. Responsibilities for directing subordinates on each step of the process may continue through the end of contract terms. As the supervisor, people in these jobs may also provide feedback to subordinates on job performance.
Usually, jobs for senior contract specialists entail duties similar to supervisors. One exception is people in these jobs may not get involved with the process of actual contract negotiations. Rather, senior contract specialists may submit recommendations on the appropriate avenues to developing a contract.
The roles and responsibilities of senior contract specialists might also include researching past contracts and recommending changes to improve efficiency. For the most part, senior contract specialists analyze past purchases and compare the current market value of goods and services. These jobs typically audit processes to look for best methods for acquisition of contracted goods and services.
By: Ivan Hafizov

Contract specialists help companies procure goods and services.

By: adam36

Some procurement consultants may specialize in electronic purchasing.

By: nyul

Senior contract specialists are similar to those in the supervisory role except that they often don't supervise employees.