What Are the Different Types of Dentist Jobs?
When one thinks of a dentist, the image that is conjured up is usually of a person who cleans teeth and drills cavities. While such dentist jobs are perhaps the most common, many other jobs in dentistry exist that are more specialized. An endodontist, for example, is a dentist who specializes in root canals and other procedures that deal with the root of a tooth. After a visit to a dentist, a patient may be referred to an endodontist who can deal with the more complex issue occurring in the tooth.
Other dentist jobs are less specialized but still narrower in focus than a general dental practitioner. Some dentist jobs, for example, focus on a specific segment of the population. A pediatric dentist focuses exclusively on dental work for children. He or she will monitor the growth of teeth and gums as children grow, and the pediatric dentist will develop a routine for comforting children during the sometimes stressful regular visits. Such dentist jobs often require a gentle touch, a pleasant demeanor, and an interest in working with children of a wide range in age. Most pediatric dentists work with kids from birth to age 18.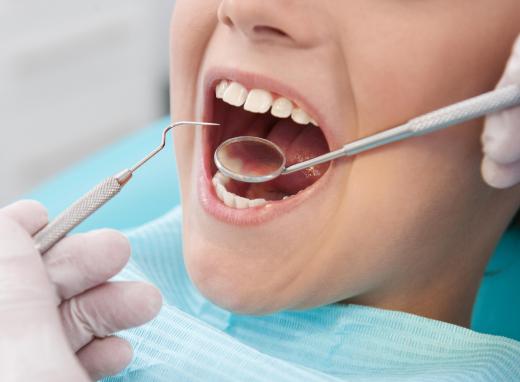 Periodontists are specialists who deal with the gums, which can affect proper tooth health and growth. Again, a general dental practitioner will often be the first line of dental examination, and if a problem arises, that dentist will refer the patient to the periodontist. Such specialized dentist jobs require just as much schooling and experience as general dental practitioner jobs, but the specialist chooses to focus on one particular area in order to better serve patients more efficiently and quickly.
An orthodontist is a dentist who specializes in straightening or aligning the teeth and jaw. A patient may find himself at an orthodontist to get braces installed, or a retainer fitted, in order to straighten out crooked teeth that can lead to pain or discomfort. An orthodontist may also address issues with the human jaw, such as misalignment that can lead to swelling and pain. Sometimes the orthodontist will deal with patients who have broken a jaw, and the jaw will therefore need to be wired shut to promote healing. Maxillofacial surgeons may perform this procedure instead, as well as other operations in the mouth or jaw.
AS FEATURED ON:
AS FEATURED ON:
By: crossstudio

Pediatric dentists specialize in the dentistry for infants, children, and adolescents.

By: nobeastsofierce

Children and adults alike can have their teeth straightened by an orthodontist.

By: legaa

Some pediatric dentists will teach children the proper way to brush and floss their teeth.

By: Nejron Photo

Dental school usually requires up to six years of study.

By: Robert Kneschke

Many oral X-ray technicians are also dental assistants.