What Are the Different Types of Entomologist Jobs?
Entomologists, who are scientists specializing in the study of insects, work in a wide variety of fields, such as forensic studies and advanced biological research. Many entomologist jobs revolve around the control and use of insect species in agriculture. Others focus on more purely academic research and involve work in laboratories to classify and understand new insect species or to chart the history and evolution of insects. A large number of entomologist jobs focus on the control and management of insect species interactions with human beings.
The study of insects is critical to the success of agriculture and animal husbandry, and a sizable number of entomologist jobs are in these fields. Entomologists study insects that damage crops or threaten livestock, in an effort to contain these pests and prevent damage to the food supply. In recent years, this sort of work has often focused on the use of natural biological control mechanisms, such as the introduction of predator insects to combat pests. The use of other control measures, such as chemical agents, is commonly managed by this type of entomologist. Agricultural entomologist jobs also frequently involve the study and protection of beneficial insect species such as honeybees.
A large number of entomologists have academic jobs that include teaching, research, or a mixture of the two, and are most often located in governmental or academic settings. Teaching entomologists offer classroom and practical instruction to students, including both future specialists in entomology and members of other professions, such as agriculture, who can make use of specialized knowledge about insects. Research entomologists are responsible for cataloging new forms of insect life, and for charting the structure of ecosystems in which those insects are active.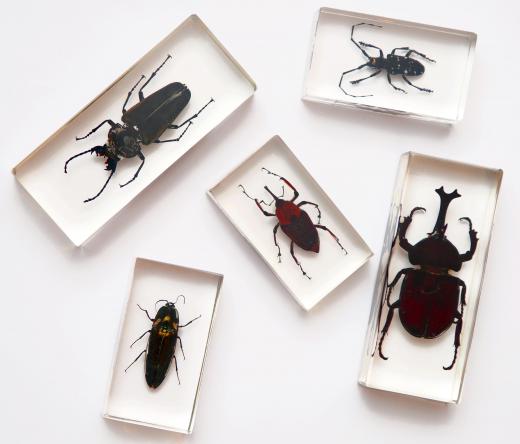 Forensic entomologist jobs require the use of specialized knowledge of insects and insect behavior to answer questions about crime. Insects are part of the natural decay process, and forensic entomologists are often called on to provide information about the time and cause of death, which can be determined by examining patterns of insect activity at a crime scene. Similar methods can be used to determine specific information about the spread of insect infestation in cases where issues of criminal conduct or negligence might be involved.
Many entomologists spend their careers working to control the spread of insects that co-exist with human beings. These entomologist jobs usually focus on the control of dangerous or undesirable insect species. This sort of work involves tasks ranging from the development of more effective measures to combat the spread of bedbugs to the struggle to save large populations from malaria.
AS FEATURED ON:
AS FEATURED ON:
By: Mark_VB

An entomologist who studies butterflies is called a lepidopterist.

By: Liaurinko

A coleopterist is an entomologist who studies beetles.

By: Henrik Larsson

A flying ant, which an entomologist might study.

By: artist_as

Some entomologists study honeybees.

By: Valeriy Kirsanov

There are various career options for an entomologist.

By: Vadim Gnidash

Many entomologist jobs are in agricultural and husbandry fields.