What Are the Different Types of Junior Technician Jobs?
Science technician, engineering technician, and broadcast and sound engineering are all employment fields where junior technician jobs are available. A junior technician is typically a new hire receiving guidance or on-the-job training from more experienced personnel. Science technicians utilize a combination of math and science to research and create products, treatments, and processes for manufacturing or growth. Engineering technicians assist engineers and scientists in conducting research, testing products, and gathering data.
Junior technician jobs in science involve setting up, using, and cleaning necessary equipment for research or testing. Experienced personnel typically teach new hires how such equipment operates and troubleshooting techniques to identify problems when the equipment fails to perform as expected. Senior science technicians also teach individuals working junior technician jobs how to track such experiments and document findings in accordance to company protocol.
Individuals working junior technician jobs usually specialize in whatever field their employer works. Consequently, they develop skill sets unique to science disciplines. For example, agricultural science technicians conduct studies on food, vegetation, and stock animals to identify ways to increase crop output, harvest grain more efficiently, or decrease the susceptibility of livestock to diseases. Biological science technicians aid scientists in the study of biological processes and diseases and consequently gain experience analyzing blood, tissue samples, and cells. Junior chemical science technicians gain experience creating and testing chemicals designed for a variety of purposes.
People employed engineer technician jobs in the field of engineering perform tasks similar to those working at science technicians. The pursuits of engineers are based in mechanics and equipment as opposed to the endeavors of scientists. Junior technicians usually help engineers with research and development, quality control inspections, and product analysis. Like their science technician counterparts, employees in this position are taught how to collect data and record results according to the standards of the company or engineer that hires them.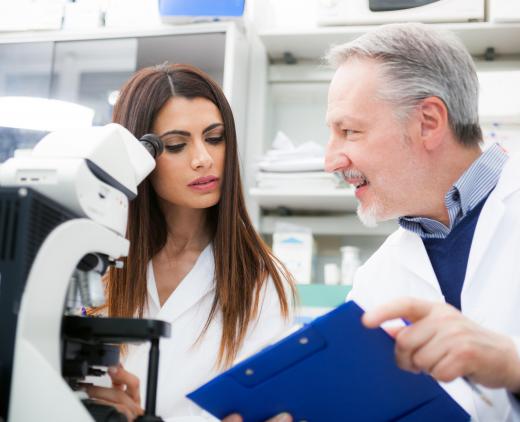 The position of junior engineering technician is also customized according to the nature of the work performed by the engineer. For example, electronic and electrical engineers create, evaluate, and build a variety of electronic equipment. Consequently, junior technicians are taught how to test, measure, and fix the product being manufactured. Junior technicians in industrial engineering are taught how to analyze the employees, production equipment, and machines used by businesses in order to determine ways productivity can be increased. Mechanical engineering technicians help mechanical engineers produce industrial equipment and consumer goods by setting up safety tests, analyzing data, and reporting findings.
AS FEATURED ON:
AS FEATURED ON:
By: Jenner

Junior science technicians often study biological processes or test chemicals.

By: DragonImages

Junior technicians may assist senior technicians with research and exampling samples.

By: Minerva Studio

Senior science technicians teach individuals working junior technician jobs how to track and document the findings of an experiment.