What Are the Different Types of Makeup Artist Jobs?
Professional makeup artists may seek vocational certification or study under cosmetology experts to learn specific skills such as color-matching and special effects. Once the artist is ready to enter the workforce, he or she may be employed to apply makeup to actors or models who perform on stage, in film, or on television. Additional opportunities are available in salons or as independent consultants. Many makeup artists embark on sales careers, working at department store cosmetics counters, specialty stores, or as representatives for major cosmetics companies.
Makeup artist jobs in the entertainment industry are usually desired by cosmetology professionals who prefer a high degree of creativity in their work. Many artists specialize in either stage, film, or television, but some may train to work in all entertainment fields. Professionals who apply cosmetics to actors should be skilled in dramatic, heavy applications, as makeup sometimes needs to be very prominent to be seen on camera, or from a distance when the actor is performing on a stage. Work in the entertainment industry requires flexibility in scheduling and a willingness to travel, as production sets may be at various locations, and last-minute schedule changes may occur.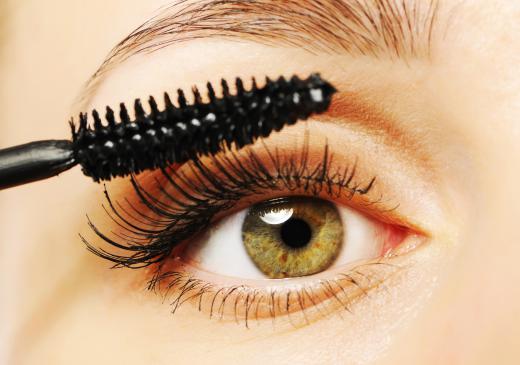 Some beauty professionals work directly with customers who want makeup professionally applied for a special event. These makeup artist jobs are often in salons, and the employees may also be certified hair stylists, skin care experts, or nail technicians. Cosmetologists may be employed directly by the salon or may operate independently and pay a premium to the salon for overhead expenses. Some self-employed makeup artists are based out of their homes, and travel to customers when hired. These positions require the ability to match colors and styles to individuals, and the artist must have strong interpersonal and communication skills to be able to assess the preferences of the clients.
Artists with a flair for marketing may select careers in cosmetics sales. Department stores and specialty boutiques usually offer makeup artist jobs, and sometimes training courses are provided free of charge. In addition to assessing customer needs and expertly applying product, cosmetologists who work in sales must be knowledgeable about the application tricks, ingredients, and benefits of the products they sell. It is also important that the artist be able to relay information to the customer in a way that is easily understood, and portrays the products positively.
Extensive experience in cosmetics application and sales may lead to higher level positions for makeup manufacturers or retailers. These jobs can include managing cosmetics departments or stores, training other makeup artists, and purchasing wholesale products for retailers to sell. Some cosmetics companies offer makeup artist jobs in product development and testing, or they may recruit established artists to serve as consultants. Cosmetologists who work for product manufacturers may provide input on color creation, texture, and application tools and instructions.
AS FEATURED ON:
AS FEATURED ON:
By: haveseen

A makeup artist applies mascara to a client's eyelashes.

By: xalanx

A good makeup artist will have an array of professional-grade cosmetics.

By: Yeko Photo Studio

Some makeup artists apply makeup to stage performers.

By: Chris Tefme

Some makeup artists work directly with customers who want makeup professionally applied for a special event.

By: nyul

Boutiques and department stores with makeup counters sometimes offer customers a free makeover in order to demonstrate their products.