What Are the Different Types of MBA Career Objectives?
An MBA is a master's degree in business administration, which allows a student to explore business strategies and economic principles that allow him or her to successfully lead organizations following graduation. A person must have a four-year bachelor's degree and submit recommendation letters, graduate management test scores, and an essay when applying to enter an advanced degree program in business. Several MBA career objectives exist, including assuming the role of a high executive or leading a company's finances. In addition, some individuals choose to oversee healthcare facilities or even manage efforts to maintain strong workforces at organizations.
MBA career objectives include becoming a high-level manager or chief executive officer. A person in a master's degree program in business that focuses specifically on management learns how to oversee change at an organization, how to supervise sustainability efforts at companies, and ways to be successful in the entrepreneurship process. He or she can then apply these skills when claiming mid- or upper-level manager jobs at companies.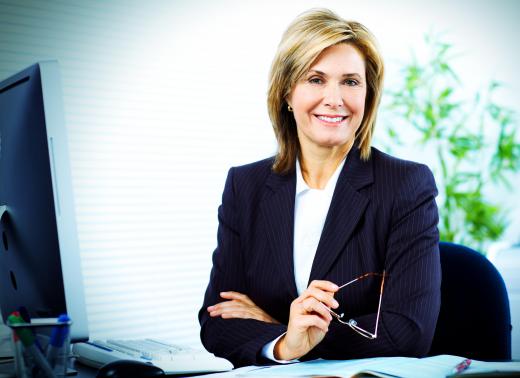 Another possible goal of an individual who is completing business courses while in graduate school involves entering the finance sector. Some degree programs concentrate mostly on the types of instruments utilized in completing financial transactions, as well as how to manage financial risk at a business and select appropriate interest rates for loans. People who have MBA career objectives of becoming financial managers at the corporate level, credit managers, or even trust administers should focus on these types of specialty courses.
Some individuals choose to spend most of their business degree program taking courses in the management of healthcare. These students learn how healthcare regulations and health reform proposals affect various aspects of the industry. Pupils further study ways to remain competitive in the marketplace in order to meet the needs of patients while remaining fiscally responsible. They can then apply for jobs as administrators at nursing facilities, hospitals, or doctors' group practices as they strive to achieve their MBA career objectives.
Other students prefer to sharpen their skills in human resources when completing graduate programs in the business field. During advanced degree programs designed for professionals with MBA career objectives in human resource management, individuals study topics such as compensation, benefits, and employment law, and relate them to general business subjects including economics, marketing, and accounting. This training prepares pupils to enter roles such as those of human resource directors and even payroll directors or affirmative action officers, who are responsible for ensuring diversity in the workplace.
AS FEATURED ON:
AS FEATURED ON:
By: Kurhan

MBA career objectives include becoming a high-level manager or chief executive officer.

By: micromonkey

A student who is interested in a career in financial services might want to consider amasters of business administration (MBA) degree.

By: Monkey Business

A personal essay is required in order to apply to most MBA programs.