What Are the Different Types of Podiatrist Jobs?
Although all podiatrist jobs involve medically caring for the feet, the actual work of a podiatrist can range from routine tasks like examination and consulting to much more complex endeavors including surgery, prosthesis therapy, and management of foot injuries or deformities. Podiatry is a broad medical specialty that incorporates many types of podiatrist jobs. In most cases, the field of podiatry is flexible. Doctors who specialize in podiatry can often take on different jobs at different times.
The human foot is made up of a complex system of bones and ligaments that must work together in just the right way in order to support healthy growth, pain-free walking, and normal leg development, among other things. Podiatrists are medical doctors who specialize in treating and healing various foot ailments. Some of the work that they do is preventative, but some is also restorative. There are as many different podiatrist jobs as there are things that can go wrong with the foot.
Most podiatrist jobs are in private practice, though some hospitals keep podiatrists on staff. This is particularly true of podiatric surgeons. Podiatrist training almost always starts with medical school, and is followed by an intensive residency or fellowship in podiatric medicine. Once certified, podiatrists generally have quite a degree of latitude in determining the contours of their practice. Surgeons are one of the only exceptions. In order to operate on feet, doctors must typically have a demonstrated background in general surgery first.
Some podiatrists focus on children, addressing foot growth and gait issues. A pediatric podiatrist centers his practice on helping young feet grow in ways that will support healthy walking and running abilities later in life. Other podiatrists work primarily with adults who have unexplained foot pain or swelling.
Still others work to rehabilitate foot injuries, caused by either accident or disease. Podiatrists in this line of work often find careers as military doctors, helping to treat the traumatic foot injuries of soldiers and veterans. Jobs in these fields may involve the fitting and monitoring of foot prostheses for victims of amputation or deforming injury.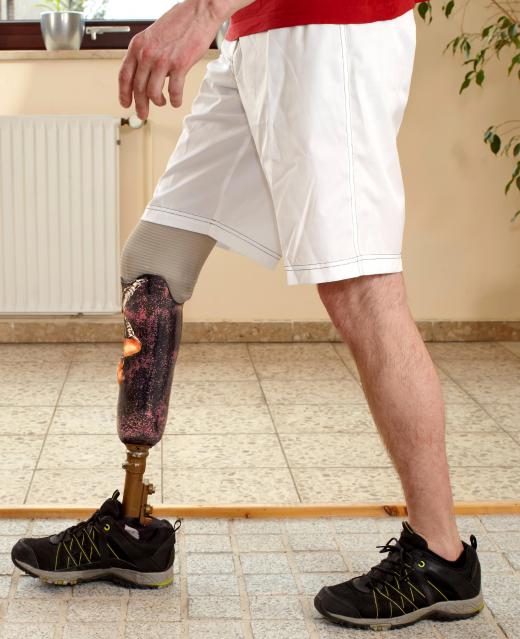 Sports injury clinics are also a common place to find podiatrist jobs. Athletes, dancers, and gymnasts tend to experience a disproportionately high number of foot injuries compared to the general populace. Sports-focused podiatrists can provide treatments, but also often offer general advice on injury prevention. Keeping feet healthy is a key goal for any podiatrist, regardless of his or her specific podiatrist job description.
AS FEATURED ON:
AS FEATURED ON:
By: JPC-PROD

A podiatrist might focus on everything from basic examinations to foot surgery.

By: Monika Wisniewska

Podiatrists treat not only the foot, but also the ankle and lower leg.

By: belahoche

Podiatrists are often tasked with fitting and monitoring leg and foot prosthesis.

By: Andrea Arnold

Some people, especially diabetics, may visit the podiatrist for routine toe nail trimmings and other foot maintenance.

By: il-fede

Podiatrists may have to deal with foot or leg injuries resulting from an accident.