What Are the Different Types of Sport Management Career Opportunities?
In order for athletic departments and athletic programs to thrive, it's important to have quality sports management. Careers in this field deal with the physical, financial and business end of sports, which is essential to a program's growth. Although sport management career opportunities are diverse, there are five common jobs for individuals holding degrees. These include head coaching, team management, athletic training, strength and conditioning coaching and scouting.
Perhaps the most recognized of the sport management career opportunities is the position of head coach. This career puts the individual directly at the helm with numerous job duties. For example, the head coach is responsible for preparing his team for games and ensuring that athletes are aware of plays and game strategies. It's also his duty to utilize the skills of different players in order to increase the odds of winning. As a result, this position requires significant leadership skills both on and off the field.
Team management is another of the sport management career opportunities that has many responsibilities. This position requires the individual to maintain the team roster, handle finances, arrange games and hire personnel. It's up to him to coordinate events and communicate with the head coach to keep the department running smoothly. In turn, being a team manager relies heavily upon possessing organizational skills and effective decision making abilities.
Another common career is athletic training, which primarily revolves around the rehabilitation of injured athletes. This position usually requires a degree in sports medicine and an in depth understanding of human anatomy. Whenever an athlete faces an injury, it's up to the athletic trainer to rehabilitate him and help him recover as quickly as possible. Usually, the athletic trainer will develop therapeutic exercises and a training regimen to help get athletes back on track.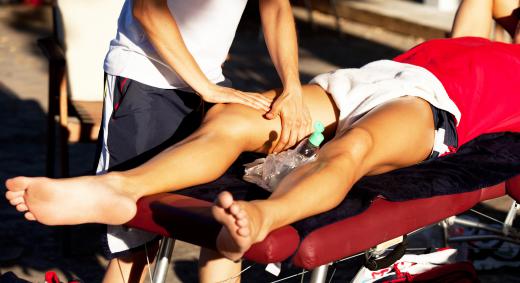 A strength and conditioning coach is primarily concerned with the physical development of athletes. In turn, it's one of the sport management career opportunities that relies on knowledge of workout and general exercise routines. This position revolves around working with athletes one-on-one in order to maximize their performance during game time. A strength and conditioning coach also deals with keeping athletes healthy and works to prevent injuries from occurring.
An additional career option within this field is scouting. Those in this position play a big part in the recruiting process, and are responsible for finding new talent. As a result, scouts are required to attend the games of potential prospects and perform interviews with athletes. They will then translate that information to the head coach and team manager.
AS FEATURED ON:
AS FEATURED ON:
By: Paco Ayala

Good management is essential to any sporting organization's success.

By: Tadija Savic

Professional boxers usually have managers who arrange matches and help guide their training.

By: wellphoto

Athletic trainers use massage, therapeutic exercise and other techniques to aid recovery from injuries.