What Are the Different Types of Standardized Test Questions?
Standardized tests include any type of test where there is little variation between individual tests, testing procedures are the same for all test-takers, and scoring methods are consistent. There are many different types of standardized test questions that may appear on different tests, including essay questions, multiple choice questions, true-false questions, and timed questions. Some tests may include only one type of standardized test questions, while others may use a blend of questions to test aptitude comprehensively.
Standardized test questions that call for an essay help measure a student's writing ability, language fluency, grammar, and comprehension. These questions are usually timed, and ask the test-takers to complete an essay of a certain length. Essay questions are usually based on a general topic, or a prompt that includes specific information that needs to be analyzed in the bulk of the essay. Essays are somewhat controversial as standardized test questions, since a greater opportunity for scoring subjectivity may be present. Scoring procedures for essay questions usually involve multiple readers and an averaged score, to try to prevent subjectivity from skewing results.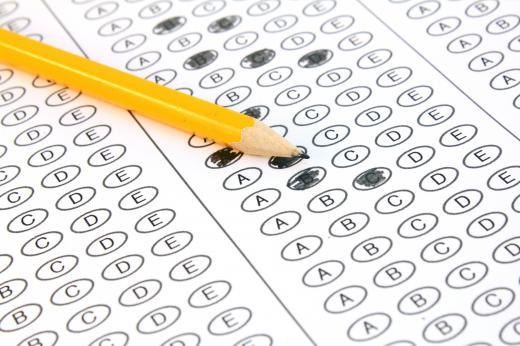 Multiple choice questions are frequently used on standardized tests, since they are very easy to score. To answer a multiple choice question, the test-taker must choose the correct answer out of a set of several possibilities. Well-designed questions will have only one correct answer, though answer choices may sometimes include an "all of the above" or "none of the above" option. Some test-takers prefer multiple choice questions, particularly in math, because the answers can be plugged back into the question to be tested for correctness. When an answer is not immediately apparent, this method can improve chances of getting the question correct.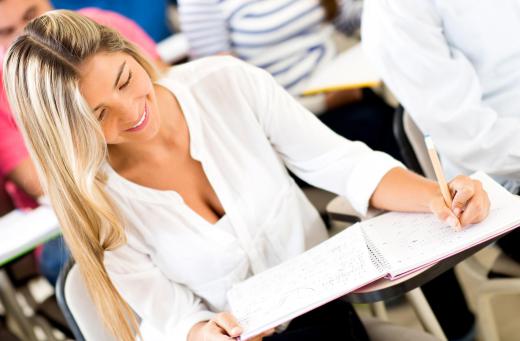 True-false standardized test questions are similar to multiple choice questions, but only permit two possible answers. In these questions, the test-taker is presented with a premise, which might be a factual statement, mathematical equation, or logic problem, and must choose whether the conclusion offered by the premise is true or false. Like multiple choice questions, there is only one correct answer, which makes true-false standardized test questions easy to score.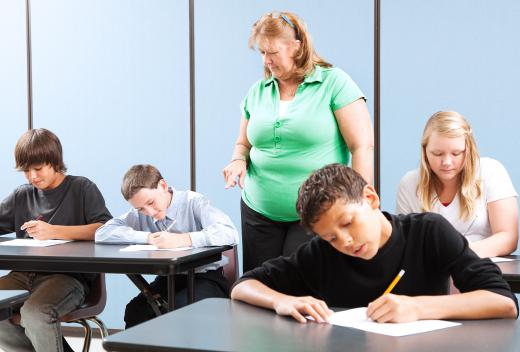 Timed questions help determine a test-takers speed and accuracy, and may be applied in many different ways. Often, standardized tests have a total time limit, with suggested time limits for each section, in order to preserve fairness for all test-takers. Timed questions may also be used specifically to determine speed in certain areas, such as by testing how fast a test-taker can complete ten basic math problems, type a sentence, or write a complete answer to a short essay question.
AS FEATURED ON:
AS FEATURED ON:
By: R MACKAY

A typical answer sheet for a multiple choice standardized test. Each bubble represents a possible answer.

By: Andres Rodriguez

Some standardized tests require an essay to measure a test taker's writing ability and grammar.

By: Lisa F. Young

Standardized testing is often used in primary and secondary schools to ensure students have met expected learning goals.

By: Lisa F. Young

Some teachers may review the material covered on standardized tests prior to administering the actual exam.