What Are the Different Types of Ticket Agent Jobs?
Ticket agents work in many different places, including airlines, train stations, and concert halls. A perk for many ticket agents is the ability to travel for free or see the attraction where they work. Airline ticket agents often get to travel for free anywhere their airline flies. Ticket agents working the ticket counters at movie theaters or concert halls typically get a free pass to see the show. There are several types of ticket agent jobs available.
Airline ticket agent jobs usually require employees to work in airport terminals. These agents are hired by specific airlines. Their duties include selling tickets to passengers, rebooking passengers desiring a different flight, and helping special needs passengers. In addition, when customers have complaints or concerns, they typically approach the ticket agent to voice those concerns. The agent is expected to resolve the issues.
Applicants for airline ticket agent positions must be at least 18 years old. In addition, they must have completed a high school education, passed a background check, and be able to lift luggage bags from the counter to the conveyor belt. Computer and typing skills are also important.
Bus ticket agent jobs include two types of work. These agents work in bus depots and for companies offering charter bus trips. Ticket agents for buses must be able to quote prices, book fares, and advise passengers about luggage and bus rules.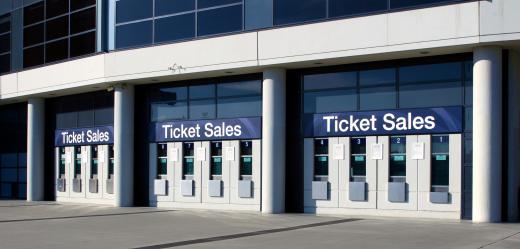 Work conditions for bus agents vary. Some agents work by telephone or computer. Others work the ticket counters as customers arrive to travel. Computer skills, strong customer service skills, and the ability to solve problems are needed for this position.
Selling tickets for sleeping cars and daily commuter rails is the responsibility of ticket agents who work for a train company. Janitorial duties are sometimes given to ticket agents. In addition, they sometimes handle baggage that is not going as a carry-on with the passenger. This means lifting luggage for short times all day long.
Concert halls and movie theaters use ticket agents to sell tickets to the public. Attendees approach the ticket counter or booth, pay for their tickets, and enter. Many concert halls and movie theaters allow their ticket agents to attend the shows for free.
All ticket agent jobs require a high school education. In addition, applicants must be in good physical condition and be able to communicate effectively. With hard work and experience, ticket agent jobs can be turned into supervisory positions.
AS FEATURED ON:
AS FEATURED ON:
By: Robert Wilson

Charter bus companies employ ticket agents.

By: iTobi

Ticket agents can sometimes work at sports arenas or concert halls.

By: Pinosub

Individuals who work for train companies are in charge of selling tickets for daily commuter rails and sleeping cars.

By: Elenathewise

Ticket agents in airports check people in for flights and direct them to the correct terminal.