What Are the Different Types of Tower Climber Jobs?
There are several tower climber jobs, such as working on television and government radio towers or cell phone and microwave relay towers. Although some of the most common towers serve as antenna towers for both civilian and government communications, other tower climber jobs can be found on navigation towers as well as private radio system towers. Some of the tallest towers that utilize the skills of people who fill tower climber jobs are commercial radio towers.
Many tower climber jobs involve installation and maintenance of antennas or other transmitter systems. The climbing component of most tower climber jobs is only one component of the job. Some towers are climbed on a regular basis for nothing more than light bulb changes. In some countries, the laws mandate that the lights on some of the tallest towers be changed on a periodic basis to prevent the bulbs from burning out and leaving parts of the tower unmarked at night. Some of these extremely tall towers require nearly half of a day to ascend and descend.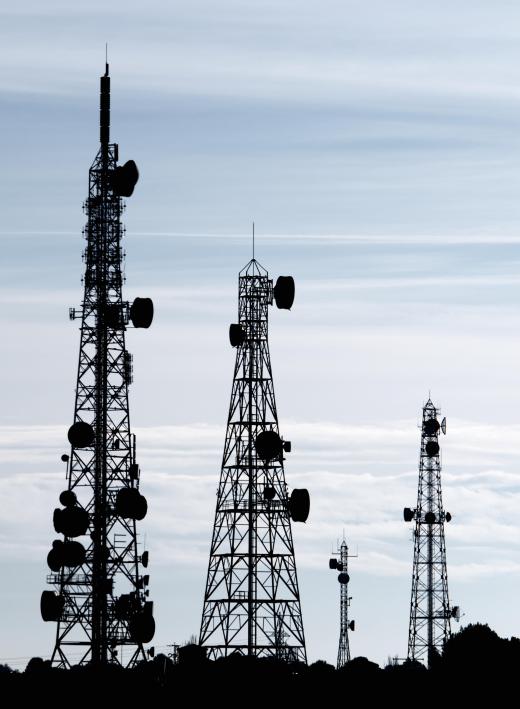 Along with the installers of the tower antennas, other crews climb the towers to perform condition checks of the towers, guide lines and lighting systems. One of the most demanding aspect of many tower climber jobs is found in the task of bringing materials and tools up to the proper installation height on the tower. In most cases, the climber will scale the tower to the desired height and lower a rope to a ground crew member who will then tie the rope to a needed part that has been pre-assembled on the ground, if possible. The tower worker will then pull up the piece to the installation height and secure the rope before beginning to install the part onto the tower.
Some of the most dangerous work associated with tower climber jobs is actually performed by the ground crew. A tool dropped from the top of a tower will posses enough force to kill a worker on the ground if struck. In addition to being able climbers, tower climber jobs also require workers to be electronics experts, because a large portion of these jobs involve performing testing and system checks using sophisticated electronic testing equipment.
One of the more dangerous tower climber jobs is that of a tower painting crew. This job often involves climbing up and down a tower that is covered in wet paint. This can create hazardous conditions for workers for most of the duration of the job.
AS FEATURED ON:
AS FEATURED ON:
By: pedrosala

Climbers work on televeision, radio, cell phone and microwave relay towers.

By: kwanchaichaiudom

Commercial radio towers are some of the tallest towers on which tower climbers work.

By: Grzegorz Kwolek

A transponder tower is a type of communications tower that can send and receive signals to other devices.

By: fusolino

Cell phone service providers may employ or contract tower climbers to build and repair their masts.