What are the Different Underground Mining Jobs?
The underground mining industry usually requires many types of employees with various skills and training. Because of the versatility of the industry, underground mining jobs are available to a wide variety of people. Underground mining jobs may include professional occupations, such as geologists, mining engineers and environmental engineers; the majority of the industry is comprised of extraction and construction jobs, such as machine operators, mine safety inspectors, mechanics and carpenters.
In order to determine if resources for mining actually exist, a geologist usually use data to test new mining sites. Geologists travel to potential mining locations using seismic data and core samples to locate extraction sites that contain valuable minerals of high purity. To become a geologist in the mining industry, the minimum requirement is usually a bachelor's degree in one of the physical sciences. Many geologists in the mining industry also complete programs in a specialized field of mining.
Mining engineers are responsible for the planning of the mining operation. They work in conjunction with drafters and technicians to develop the structure of the mine and determine the best design for easy extraction. Engineers in underground mining jobs may also be responsible for supervising the project and solving any problems that may arise with the structure. A minimum of a bachelor's degree in engineering with an emphasis on coal mining or other specialty is typically required.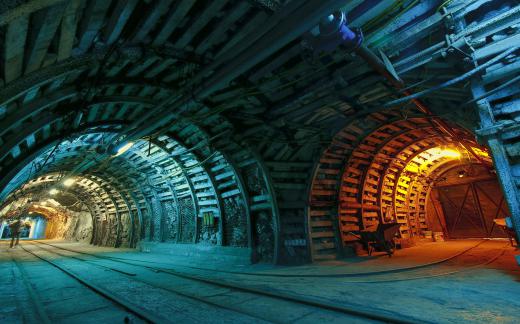 Environmental engineers may oversee mining projects to ensure that they meet Federal and local regulations. They may also work as consultants during the design process to assist engineers in developing a mine that is environmentally safe according to government regulations. These underground mining jobs are usually filled by those with a natural science or environmental engineering background; they also may require additional ongoing training so the engineer can stay current on the newest environmental regulations.
The majority of workers in underground mining jobs are employed on the mining sites. Underground mining operations involve many different types of machine operators. Drilling-machine operators are typically responsible for drilling the holes that will be filled with explosives. Once the explosives have been detonated, the loading machine operators clean up the left over debris with a power shovel and load the remains onto a surface transport truck.
Some projects may use a continuous-mining machine operator. These operators typically control mining machines remotely to facilitate safe and constant mining. Machine operators typically hold a high school diploma but it is not necessarily required. Those with two years of vocational training tend to advance more quickly and may not have to serve as an assistant or apprentice for several years before obtaining a promotion.
Mine safety inspectors perform checks in the work area to look for loose fixtures, harmful chemical leaks and proper ventilation systems. If the mine does not meet safety requirements, the inspector is usually responsible for closing the mine until conditions have improved. Mining inspectors may start out as operators and then advance after taking several safety education and procedure training sessions.
Mechanics work to restore and maintain mining equipment, while carpenters tend to be responsible for constructing mine structures and some equipment. Given the unusual conditions of underground mining, carpenters and mechanics generally need specialized training in addition to their standard vocational trade courses. Most vocational schools will offer additional specialized training with the certificate programs.
AS FEATURED ON:
AS FEATURED ON:
By: MajusC00L

Entrance to a coal mine.

By: Aniuszka

Large tunnels in a coal mine.

By: Kovalenko Inna

Mining operators are responsible for operating machinery, cleaning up debris, and loading.

By: Kelpfish

Most miners wear face protection, which may include a respirator.

By: Kovalenko Inna

Mine safety inspectors must ensure the safety of work sites.

By: io

Mining engineers will plan out a mining operation at a particular site.

By: chiakto

Mining work includes hard physical labor.