What are the Main Cashier Duties?
The main cashier duties in most markets and retail stores involve pretty much everything about the final point of sale, including scanning a customer's items, collecting payment, making change, and printing receipts. This person may also be responsible for bagging or packaging purchases and handling a range of customer service-oriented requests. Processing returns and handling complaints are usually near the top of the list, but making price adjustments and routing special requests to the appropriate managers may also be part of the job.
Collecting Payment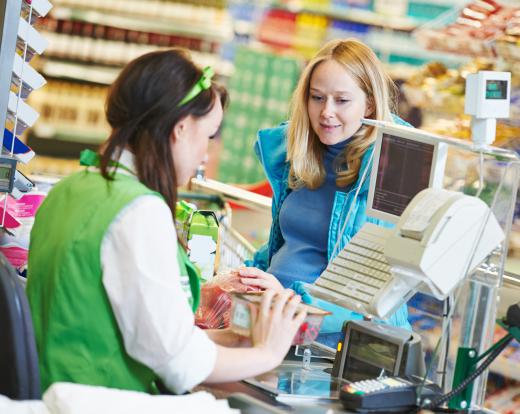 Depending on the setting and the types of items being purchased, cashier duties can include scanning bar codes found on the items or manually entering prices into the register system. Most cashiers spend the majority of their time working cash registers or tills. Modern registers are usually capable of automatically computing the total cost of items and applying the appropriate sales tax, but being able to figure this out in case of power loss or technical failure is important. The cashier is also usually responsible for subtracting discounts from sales specials or coupons and informing the customer of the total.
A lot depends on the individual store and its policies, but in many places sales can happen via cash, credit cards, debit cards, or checks. The cashier needs to be able to process and account for transactions that happen in all of these mediums, and must be able to accurately document the sale, whether in the register or in a separate sales ledger. He or she generally makes change when necessary and gives the customer a receipt documenting the purchase.
Packaging Purchases
Particularly in small shops, the person running the cash register is typically responsible for all aspects of the sale, including bagging and packaging goods. Sometimes this is as simple as placing a single item in a paper or plastic bag, but it can be more complex, particularly where breakable or perishable things are concerned. Grocery and supermarket checkers, for instance, frequently receive training on how to efficiently pack a grocery bag so that heavy items are on the bottom, delicate items like eggs and bread stay near the top, and weight is more or less evenly distributed. Large stores often employ separate baggers to do this work, but not always, Even if he or she isn't required to do it regularly, a cashier usually understands the logistics of packaging before beginning work.
Counting and Handling Cash
A cashier is usually required to count his or her cash drawer before and after a shift to make sure that it contains the right amount of money when compared with daily sales records. Some cashiers perform hundreds of transactions in a single day, and all money must be accounted for at the end of the shift. The last person on duty is often responsible for "closing out" the register when the shop closes, a process that involves counting the cash and checks, making a note of the totals in the official ledger or accounting system, and depositing the day's earnings in the bank. Most organizations elect only very well trusted employees to this position.
Customer Service
Providing expert customer service is also an essential part of the job in most places. Employees in customer-facing roles usually need to be knowledgeable about company policies and the different types of products or services offered, and this is particularly true at the point of sale. Stores often depend on cashiers to provide shoppers with helpful, accurate information. Common duties in this category include answering questions about different items, directing people to certain areas of a store, and providing refunds for unwanted purchases or defective merchandise.
Pushing Promotions and Providing Information
Another important duty concerns providing information about store-specific discounts, deals, and incentives. In many stores cashiers are required to ask customers if they'd like to open a store-sponsored credit account, for instance, or whether they wish to become members of certain brand loyalty programs. They usually need to be able to inform shoppers about promotions or special deals linked to particular products, and typically also need to be up to speed when it comes to current coupons and Internet deals.
Advancement Potential
Experienced, productive workers are often rewarded with additional duties and possibilities to advance within a company. A cashier who has several years of experience and consistently performs well may have the opportunity to become a supervisor, for instance; supervisors are in charge of all workers during a given shift, and generally have a lot of managerial duties. They may also relieve cashiers when they go on breaks and help them count drawers before and after shifts. Many supervisors are given administrative duties such as ordering new products, setting prices, and making hiring decisions.
Essential Skills and Training
Cashiers are typically considered to be "entry-level" workers, which means that no specialized skills are required in most cases. Just the same, most employers want candidates to have a high school diploma or equivalent, and some experience handling or being responsible for cash is also important. Applicants with criminal records or histories of financial trouble aren't always well regarded, but a lot of this depends on the specific store or employer at issue. In most cases, a general sense of trustworthiness, a knack for interacting with people, and a desire to learn are the main requirements.
AS FEATURED ON:
AS FEATURED ON:
By: Kadmy

A cashier's main duties are generally to collect money from customers and distribute any required change or receipt.

By: fotopak

Cashiers must be knowledgeable about coupons.

By: bst2012

A cashier should have good math skills as well as an upbeat personality.