What Are the Most Important Auto Mechanic Skills?
Automotive mechanics typically need to have a variety of different skills, ranging from technical knowledge to manual dexterity. Some important auto mechanic skills include problem solving, the ability to learn and perform complex tasks, and the capacity to quickly adapt to the introduction of new technologies. Since there are a number of different types of automotive technician jobs, not every mechanic needs to have the exact same skill set. Some auto mechanics focus on performing relatively simple maintenance and repair work, while others are responsible for complex diagnostics, and each of these jobs can require a somewhat different set of skills.
Cars and trucks are complex machines that consist of many different interconnected systems, and the field of auto repair has evolved constantly throughout the years due to the regular introduction of new technologies. Since there are so many different automotive systems that can break down and need repairs, there is no one skill set that every single auto mechanic needs to have. There are some basic auto mechanic skills that any good technician needs to posses though, and also specialized skills that are necessary in order to perform the type of complex work that is typically associated with higher salary levels.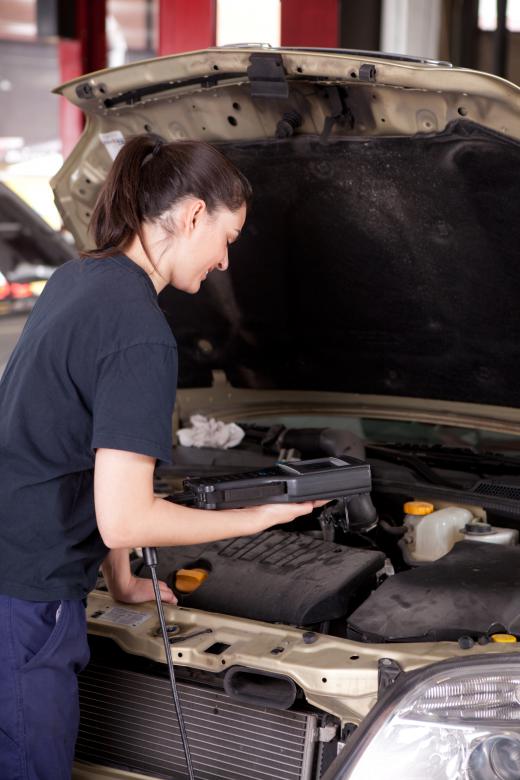 One of the most important skills for an automotive mechanic to have is the ability to learn and complete complex tasks. Whether a technician is responsible for performing simple repair work, or complex diagnostics, he needs to be able to follow instructions, read diagrams, and perform complicated operations with speed and precision. Many automotive repair tasks can be learned through practical instruction, though complex operations are typically also described in repair manuals. Much of this information is computerized, especially for newer makes and models of vehicles, so some level of computer knowledge is also one of the more essential auto mechanic skills to have, unless the mechanic will be working primarily on vintage automobiles.
More complicated work, especially diagnostics, can require other auto mechanic skills. The most important skill for a diagnostic technician to develop is problem solving, which can allow him to accurately determine what is wrong with a malfunctioning vehicle. Problem solving auto mechanic skills are important for basic diagnostics, such as determining the source of strange engine noises, and also for complex computer diagnostics. Many problems that occur with newer makes and models of vehicles require interfacing with an on-board computer, so a skilled diagnostic technician typically needs to be able to work efficiently with computerized diagnostic tools.
The specific duties of an automotive mechanic can vary depending on the environment he works in, which can also affect the skills he needs to have. In large dealership environments, the work may be very compartmentalized, so the required skill set is often limited to specific repairs or diagnostic jobs. Auto mechanics who work in other environments, such as small independent shops, are often called on to perform other functions, such as answering phones, interacting with customers, and service writing. Each of these responsibilities can require interpersonal and writing skills that are not typically associated with the profession of auto mechanic.
AS FEATURED ON:
AS FEATURED ON:
By: Tyler Olson

The ability to diagnose and solve problems is key to becoming a good mechanic.

By: Andres Rodriguez

Auto mechanics should be able to learn and complete complex tasks.

By: Aliaksei Hintau

The ability to replace common parts, such as brake pads, is an essential part of being an auto mechanic.

By: uwimages

The ability to perform routine maintenance, such as an oil change, is an essential auto mechanic skill.

By: Andres Rodriguez

Mechanics may be asked to explain necessary repairs or services to customers.

By: Kurhan

Mechanics need to be able to interface with a car's onboard computer.

By: Tyler Olson

Modern mechanics must be familiar with both manual diagnostics and the use of computerized systems.