What does a Ballistics Expert do?
A ballistics expert is a type of forensic specialist who collects, studies, and analyzes evidence related to ammunition and firearms. When discussing this profession, the term "ballistics" refers to the science and study of the trajectory of bullets and the distinctive characteristics apparent after they are fired. Many of these experts are employed by police forces, although they may also be hired by private agencies as well.
Experts in ballistics have a variety of job responsibilities, but the essential duty is to analyze weapons and bullet remainders relating to crimes. An expert may examine firearms, spent shell casings, bullet fragments, or clips left at the scene of the crime in order to determine the make and model of a particular weapon. The set of techniques used to make this determination is called ballistic fingerprinting, and it uses the marks that a gun leaves on a bullet in order to match the ammunition to the particular firearm from which it was fired.
The knowledge of physics and trajectory is crucial for someone employed in ballistics. Using this expertise, a ballistics expert may analyze the crime scene and determine the probable distance and angle of the gunshot in order to ascertain where the shooter was standing. From where the bullet fragments are found, the he or she may reconstruct the path of the bullet using string or lasers to illustrate the bullet's trajectory.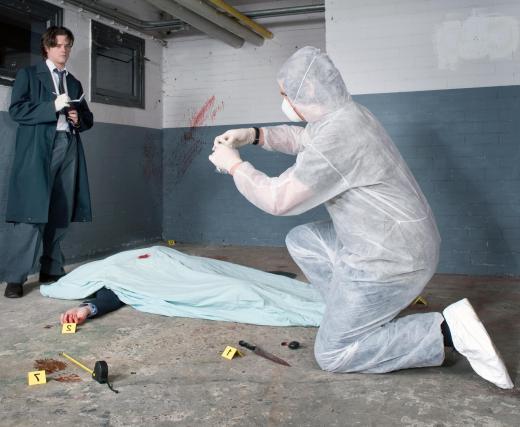 Along with work in the field, ballistics experts usually conduct research and experiments in a laboratory. They may perform tests on collected evidence in order to determine the relationship between the evidence and the crime, or to the suspect in question. Another important duty may be to use a special etching process to restore serial numbers to weapons in order to identify them. After completing the investigation, the expert may be called upon to provide testimony in court.
The training and education for people in this field varies. In many cases, an expert will have a bachelor's degree in criminal justice, criminology, or forensic science. Some police officers or other individuals who have experience with weapons may enter into the field after receiving training in ballistics, and may not necessarily have a degree. Hands-on, practical experience can be important, along with some knowledge of physics, math, chemistry, and firearms.
A ballistics expert is often a vital member of the team when police and forensic specialists work together. The science of ballistics is an important part of crime scene investigation. Using their specialized knowledge and training, these experts play a major role in helping to solve crimes involving firearms.
AS FEATURED ON:
AS FEATURED ON:
By: West Midlands Police

Ballistics expects use microscopes to inspect shell casings found at crime scenes.

By: corepics

A ballistics expert looks for and analyzes shell casings or bullet fragments left at a crime scene.

By: gromit702

Ballistics experts can discover many clues about the type of gun and bullets used in a crime as well as the position of the shooter.

By: nito

Ballistics experts investigate bullets, shell casings and other firearm-related evidence.

By: Netfalls

A ballistics expert can determine where the shooter was standing based on the probable distance and angle of a gunshot.