What does a Boat Captain do?
A boat captain is the boss of the ship. He oversees the crew and the entire running of the boat. Captains may be required to have a license, depending on the type of boat they're responsible for, such as a cruise ship or fishing vessel. Depending on the country, boat captains may be classified as "Senior" or "Master" and have the appropriate identifying licensing. A boat captain does hands-on tasks such as steering the ship, but also uses problem-solving and planning skills regularly.
Understanding weather conditions, water channels and the laws of the seas in international locations are responsibilities of a boat captain. The captain must have knowledge of every aspect of running a boat even when he delegates duties to crew members. Delegating mostly to a first mate who reports to him, the boat's captain can't miss any details. He must be sure the boat is maintained and is running on course.
Planning and executing security strategies against possible threats such as those from pirates or terrorists is the captain's responsibility. He must also take security precautions against having stowaways, or unauthorized passengers, on board. Regularly inspecting the ship is something a boat captain does. Captains must make sure that the ship's activities remain within the law in all aspects; this includes the behavior of passengers and crew. Boat captains have authority over both the crew and passengers.
The captain is also responsible for the condition of the cargo. A boat's cargo may be a non-perishable product such as textiles or it may be perishable food items such as fresh seafood. A boat captain is responsible for the sales of the cargo and maintaining records, such as customs or immigration papers.
The safety of the crew is something the captain must be focused on at all times. He must make sure government and other safety standards are maintained on board. Boat captains work with other ship personnel, such as a harbor pilot, to keep the ship on its course as well as make sure all signals, gauges and water depth measuring equipment stay in working order. The ship must have appropriate life jackets, rescue boats and other life-saving equipment. Regular safety drills must be overseen by boat captains.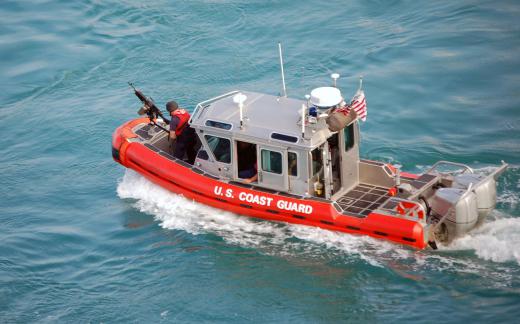 In the case of an accident or collision at sea, a boat captain must make the final decision on what to do. For example, if a crew member is seriously injured, the captain may decide to arrange for air evacuation of the individual. If a certain choice isn't possible, it's the captain's duty to come up with the best option in each particular situation.
AS FEATURED ON:
AS FEATURED ON:
By: Paul Hamilton

A commercial fishing boat.

By: Rob

Boat captains make sure that there are enough life jackets to go around.

By: Wimbledon

The commander of a U.S. Coast Guard harbor patrol boat is responsible for the safety of assigned waterways.

By: gwen0

The captain of a boat or ship is responsible for ensuring that the vessel and its cargo safely arrive at their destination on time.

By: Wimbledon

The captain of a ship or boat is responsible for overseeing its evacuation in the case of an emergency.

By: keller

The captain of a tugboat may be tasked with using his craft to guide a large ship, like a tanker, through a harbor.

By: Pavlo Vakhrushev

In addition to normal captaining duties, the commander of a warship is tasked with using it as an effective weapon during combat.

By: rodjulian

Cruise ships are commanded by captains who are employed by privately owned lines.

By: mathesius

A captain must be able to plan and execute security strategies against pirates that pose a threat to ships.