What does a Book Distributor do?
A book distributor is a company that sells books to bookstores and other retailers. One of the goals of an author or publisher is to have his books sold in a bookstore. Having a book on the shelves of a bookstore can help put that book in the hands of readers. A book distributor often contracts with publishers or individual writers to distribute their books. Many distributors have a list of stores they sell to and a certain genre that they vend as well.
Basically, a book distributor distributes books to bookstores, retailers, and online stores. The distributor is in the business of taking on publishers, and sometimes individual authors, as clients and convincing a bookstore or other retailer to sell their various titles. As such, the distributor may be selective of which titles it takes on. In addition, the distributor usually has a relationship with the stores they sell to and may visit them on occasion. Once the store places the order, the distributor packs up the books and ships them to the appropriate location.
Many times the book distributor will also have a catalog. The catalog generally lists all the titles the distributor is representing. New catalogs may be produced once a year with recent titles listed in the front. Bookstores and other retailers can use this catalog to help them determine which titles they are interested in carrying. Then, once they decide on which books to carry, they can place their orders.
It is important not to mistake a book wholesaler for a book distributor. A wholesaler basically makes the book available for sale to bookstores and retailers. There is virtually no selling to the store involved. The book distributor typically makes the books available, but also actively sells to a store or retailer. They may also collect money made from book sales and send it off to the appropriate individual.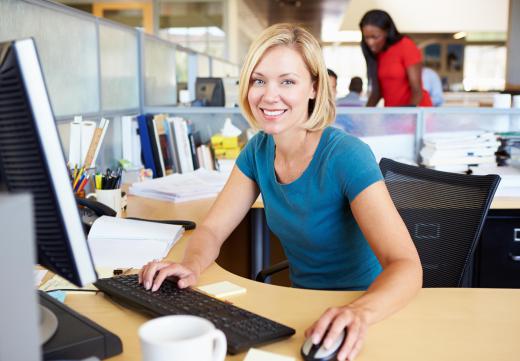 One job a book distributor does not usually perform is marketing the book. Drumming up interest for the book is usually the work of the publisher or author. The distributor simply ensures the book is in retail stores for the customer to purchase. Working together, the publisher and distributor can make sure the book in question has the best chance to be a success.
Book distributors generally need strong customer service skills to foster relationships with publishers and book retailers. Normally, a high school diploma or an equivalent is the minimum required education, though candidates with business-related degrees might find an edge when applying for jobs. Some distributors are self-employed, while others work for distribution companies. Distribution companies generally have entry-level positions where an aspiring distributor can gain valuable experience and then work his way into a supervisory role or decide to start his own company.
AS FEATURED ON:
AS FEATURED ON:
By: Monkey Business

Bookstores buy their books from distributors.

By: Minerva Studio

Book distributors often contract with individual writers to distribute their books.

By: Monkey Business

Book distributors generally need strong customer service skills to foster relationships with publishers and book retailers.

By: Andrzej Tokarski

Book distributors work with a variety of locations including bookstores, retailers and online stores.

By: WavebreakmediaMicro

Book distributors may help get new copies into libraries.