What does a Catering Director do?
A catering director is responsible for handling all the tasks related to food services for various events. They often manage a staff to take care of all the aspects of catering, such as food preparation and cleanup. Many directors are employed by corporations, non-profit organizations, and government agencies. Some run their own businesses and work as independent contractors for special events. A director often has education and experience in the hospitality industry, and some may have a sales and marketing background as well.
Planning meals for events and ensuring that enough food is available for attendees is a primary task of a catering director. Directors must be able to coordinate with department heads and event planners in order to plan the best menu possible for events. They also have to know how to cook to serve large crowds and how to organize staff to do the same. Directors are often graduates of culinary schools where they learn those skills, or they major in a hospitality degree from conventional colleges and universities. They may also earn certificates from programs that focus on people and project management skills.
Training and managing a team of caterers is an important aspect of a director's job. In a corporate or other organizational setting, caterers report to the catering director to get assignments, ask questions, and receive feedback on a daily basis. A self-employed director does the same with independent contractors, but just prior to and during the event. The director often has the power to hire and fire caterers, give job performance reviews, and provide the resources necessary to endure the success of the team. It's also up to the director to develop strategies to improve the performance of the catering team and the overall catering experience.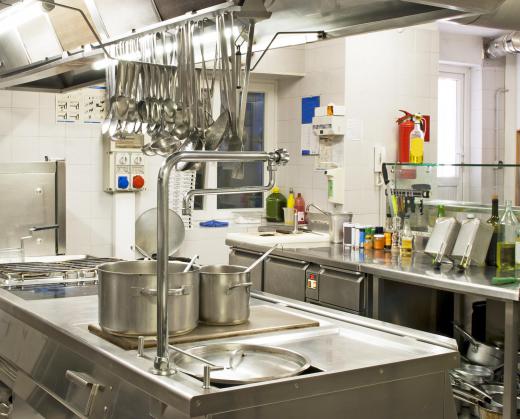 Selling is part of the duties and responsibilities of a catering director. Working on selling catering services is often the majority of what a director must do, even more so than planning the events themselves. They must find and maintain accounts on behalf of the companies they work for. For example, a catering director for a hotel may organize tours for potential clients in order to sell them on the catering services available and letting those prospective clients know why the organization they work for is the best. Directors who are comfortable with and have experience selling to clients often thrive and are successful in their careers.
AS FEATURED ON:
AS FEATURED ON:
By: scottchan

A catering director may be required to earn a certificate from programs focusing on project management skills.

By: atm2003

A catering director manages food preparation and clean up.

By: Eric Limon

A catering director may or may not oversee delivery, set-up, and execution of the event.