Chemistry is the study of chemicals and matter, and people whose careers are focused on this field are called chemists. These professionals study matter on the atomic and molecular levels in order to understand how elements join together to form different substances. They also measures proportions, reaction rates, and various other properties of substances in order to understand more about those substances. The term is also used in the United Kingdom and some other places to refers to what a person in the United States would call a pharmacist.
A chemist will have at least a bachelor's degree in chemistry and may work within many different career fields, the most popular of which are industry, academia, and government work. Undergraduate-level students are typically educated in mathematics and physics as well as chemistry in order to encourage a robust knowledge of general science, while graduate-level students usually specialize in a subfield such as organic chemistry or quantum chemistry. A person with a bachelor's degree can be employed in a wide variety of positions, but people in academia almost always have master's or doctoral degrees in order to qualify to teach classes and conduct research.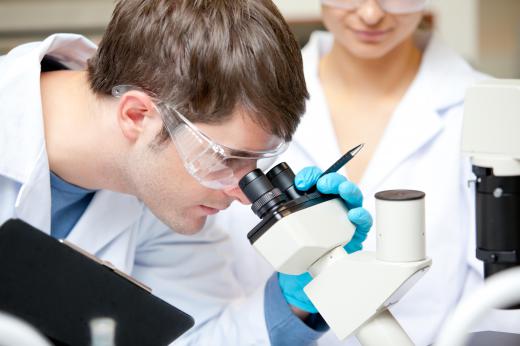 The field began with first casual and then more intensive investigations of the properties and usefulness of fire. Once people discovered gold, they developed alchemy in a search for a way to turn other substances into gold. While the alchemists never actually managed to turn anything into gold, they did lay down the foundations of modern-day chemistry by discovering many important chemical processes.
Today, chemistry is divided into several subfields. One is analytical chemistry, which is the study of materials with the aim of learning about their chemical composition and structure. A biochemist studies the chemicals, chemical interactions, and chemical reactions that occur within organisms. Physical chemistry is the study of chemical systems and processes on the physical fundamental level, meaning they study why and how the physical structures of molecules and atoms interact.
A chemist might be found in a related scientific field such as medicine, physics, biology, forensic science, or engineering. He or she might also be employed in the pharmaceutical manufacturing industry, chemical manufacturing, fuel extraction, or scientific research fields. Because it is a broadly applicable field, chemists can be found in almost every imaginable area of employment.
AS FEATURED ON:
AS FEATURED ON:
By: WavebreakMediaMicro

Chemists may be tasked with testing and identifying substances that have been found at the scene of a crime or accident.

By: Alexander Raths

Industrial firms employ chemists who specialize in developing new compounds for commercial applications.

By: Olga Galushko

From ancient times through the 1800s, alchemists laid the foundation for modern chemistry.

By: Sebastien Wiertz

Ouroboros was used for the symbol of alchemy during the Middle Ages.

By: Creativa

Chemists work in research and development for a number of different industries.

By: Leah-Anne Thompson

A forensic chemist may examine clothing articles from a crime scene.