What does a Chief Executive Officer do?
A chief executive officer (CEO) manages the organization that he or she administers, usually at a high or corporate level. As such, the day-to-day duties and activities of these managers are widely varied. Their responsibilities usually include creating and directing the vision and strategy for an organization, and making decisions that affect the entire company.
Someone who works as a chief executive officer will often take on the roles of leader, coach, and operational manager. Each of these areas may have a variety of wide-ranging responsibilities, depending on the industry, size, and other attributes of the company or corporation. For example, as leader, the CEO might work on creating a mission statement and an operating vision for the company. He or she may then work with other executives, managers, or teams to develop a strategy and plan. The CEO may subsequently work, in the role of operational manager, to put in place a process to execute the plan.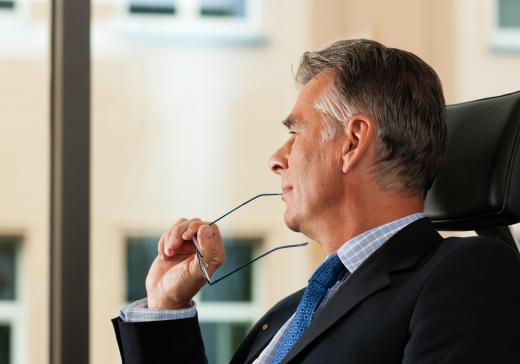 Other activities in this role may include deciding on the priorities of projects and making high level decisions about operational, staffing, and resource allocation. Another important duty that he or she may perform is facilitating the problem solving process. The CEO may do this by directing the most appropriate staff and resources to work on solving major problems and issues encountered.
In the role of coach, the CEO may need to perform staffing duties. These could include communicating the corporation's vision and strategy to the staff, delegating responsibilities to teams or individuals, and holding people accountable for the responsibilities they are instructed to fulfill. A CEO may act as a mentor to staff within his or her company, advising them on career goals and effecting necessary job assignments where appropriate.
Chief executive officers may perform very different duties depending on the industry they work in and the size of the organization. For example, the duties of a hospital CEO might include tasks that could require extremely specialized knowledge of medical procedures or medical law. He or she may need to make important financial decisions regarding where to allocate funding, which could have life and death implications for different groups of patients.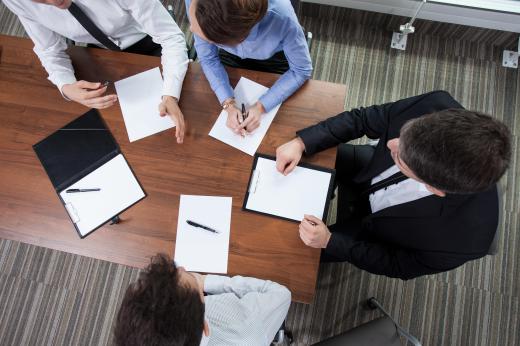 In addition, CEOs are, in many cases, the representatives of the organization. In this role, they may need to interact with external bodies, such as the media or government departments. The responsibilities of the CEO are usually large ones, and the person's salary generally reflects this level of responsibility.
AS FEATURED ON:
AS FEATURED ON:
By: Kzenon

Chief executive officers envision the long term strategy and philosophy of an organization.

By: Rido

CEOs assemble teams to accomplish specific tasks and delegate authority within organizations.

By: FotolEdhar

A chief executive officer often takes on the role of leader, coach and operational manager.

By: Photographee.eu

Chief executive officers may perform different duties depending on the industry in which they work.

By: Sam Spiro

Chief executive officers may be employed at hospitals.