What does a Client Service Representative do?
A client service representative is responsible for ensuring that the needs of an assigned client base are attended to. Various types of industries feature client service representative jobs. Individuals who take on the role of a client service rep are often the first and perhaps only point of contact that a client has with a company. It is vital that the individual in this type of role has the ability to listen to and relate to the client while also ensuring that the client's inquiries and concerns are addressed. Regardless of the industry, client service roles are typically performed in an office setting and require computer, phone, typing and troubleshooting skills.

Providing answers to a customer's inquiries is one of the primary job duties of a client service representative. He or she might work in a call center, a business office or a home office location. Those in lower-level positions take incoming calls from customers regarding account status, billing or minor technical issues. Those in mid-level positions might have an assigned customer base that consists of business users, and they might spend their day managing their client base's orders and troubleshooting any issues that arise. Communication might occur primarily through email and outbound telephone contact.
A client service representative is an advocate for the customer. The position requires information to be provided to the customer regarding the product or service, as well as company policy when necessary. Presenting the customer with the best available options for his or her situation requires both listening and probing skills. Client service reps might also spend time walking a customer through basic troubleshooting steps. Troubleshooting involves asking questions to determine what the exact problem is and helping the customer with a variety of possible solutions.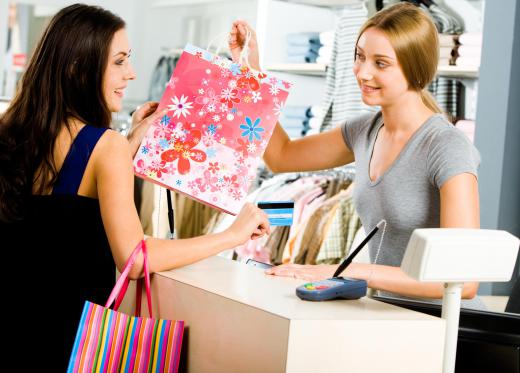 Many industries feature service representative positions, including banking, telecommunications, human resources, retail, Internet marketing and payroll. Although the nature and technical depth of the information might vary, the nature of a client service representative position involves one-on-one interaction with a variety of personalities and navigating several computer databases simultaneously. Written documentation that details troubleshooting steps and communication milestones is a crucial job duty. Specific employers might have individual guidelines to which a service representative must adhere while performing the role's basic duties.
By: Jeanette Dietl

A client service representative is responsible for answering customer questions and concerns.

By: Rob

A client service representative must have excellent communication skills.

By: Tyler Olson

A client service representative may speak to customers in person or over the telephone.

By: pressmaster

In a retail setting, a client services representative may double as a salesperson.

By: Adam Gregor

A client service representative may be responsible for handling customer complaints.