What does a Colorectal Surgeon do?
A colorectal surgeon can also be called a colon and rectal surgeon or a proctologist. These are surgical specialists most concerned with treating problems that occur in the rectum or the area below, called the anus. They also perform surgery or run diagnostic tests on the colon.
Like most surgical specialties, it takes considerable time to train to become a colorectal surgeon. Doctors must first graduate medical school before being accepted as an intern in a surgical training program. Surgery training usually lasts at least five years, but has to be followed with approximately two years of specialty training in treating illnesses affecting the above-mentioned areas. After this additional specialization, doctors can become board certified in colorectal surgery.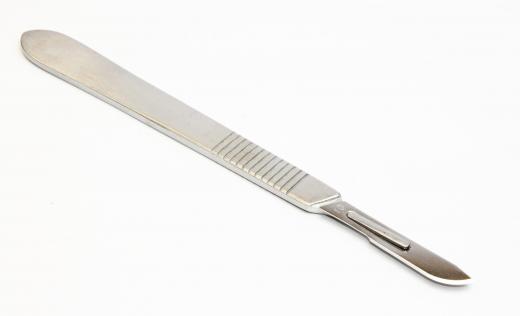 There are many things a colorectal surgeon might do in his or her job. People often think of surgical specialties as performing surgery only, after conditions have been diagnosed. This is not the case with colorectal surgery. One main part of the job in this specialty is performing minimally invasive diagnostic tests like colonoscopies. It's a little confusing because there are other specialties in medicine that can overlap with proctology. Gastrointestinal doctors may perform colonoscopies too, for instance.
Clearly, in addition to diagnostic testing of a few kinds, a colorectal surgeon does perform surgery, and in fact, these surgeons do a variety of surgeries meant to treat a wide number of conditions. They may work to repair fissures or openings between the vagina and rectum, they can perform surgeries needed to address colon cancer, or they might remove pre-cancerous polyps from a diseased colon. If diverticulitis occurs in the lower bowel, a colorectal surgeon could perform bowel resection or colostomy. Surgeons might also treat significant hemorrhoids that require removal, and work with people with intestinal diseases like Crohn's, which may cause repeated inflammation in the lower intestine and colon.
The variety of work offered the colorectal surgeon is significant, and in some cases, the surgeon establishes long working relationships with patients who have chronic diseases of the rectum or colon. At other times, the surgeon is consulted when problems are suspected, confirms them through diagnostic tests, performs surgery, and then won't see a patient again, except possibly for follow-up exams. Since these surgeons may do diagnostic testing, they may have a regular clientele that see them for yearly testing, but who will not require surgery. Working environment may vary too; some of these doctors are employed by a hospital, while others maintain their own office and have surgical privileges at several local surgical facilities.
As with many surgical specialties, the colorectal surgeon may expect long hours at work, and the need to work off-hours, if necessary, to perform surgery in emergency cases. These doctors also work with a variety of other specialists to perform their jobs and may need to coordinate care with patients' primary and/or specialist doctors. Such surgeons additionally need to continue to learn as they progress through their career because new technology, new treatments, or improvements in technique often require retraining.
AS FEATURED ON:
AS FEATURED ON:
By: ittipol

A scalpel.

By: Antonio Gravante

A colorectal surgeon performs surgery on the colon.

By: rob3000

A colorectal surgeon might remove pre-cancerous polyps from a diseased colon.

By: fivepointsix

Colorectal surgeons do a variety of surgeries meant to treat a wide number of conditions.