What Does a Community Dietitian Do?
A community dietitian plays an important role in improving the health, nutrition and overall quality of life of the people within a community. Essentially, these individuals provide citizens with information on healthy foods, which should be eaten, as well as unhealthy foods to avoid. To become a community dietitian, at least a bachelor's degree in dietetics or a related field is usually required. While the specific responsibilities of an individual can differ depending upon the employer, there are five main job duties associated with this position. These include instructing people on healthy nutrition, creating educational materials, evaluating restaurants, developing menus and performing research.
Instructing people on healthy nutrition is an integral part of being a community dietitian. For example, an individual might hold public seminars, visit schools or visit nursing homes to raise awareness on the importance of a healthy diet. Some things he might discuss would be eating a balanced diet, minimizing processed food consumption and developing exercise routines. In some cases, he might also meet with local physicians to learn about the primary health concerns of a community. Consequently, it's helpful for an individual in this position to have significant interpersonal skills and the ability to instruct others.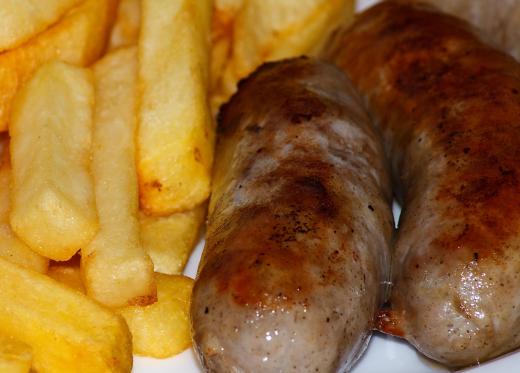 Along with this, a community dietitian will also be responsible for creating educational materials. This might involve designing posters, creating slide show presentations and writing instructional pamphlets. These materials will usually be implemented into any training programs he leads and must be easy for people to understand.
This specialized dietician will help guide a community through ways they can make more specific lifestyle decisions, whether it's involving child nutrition for toddlers or sports nutrition for athletes in the community.
In some cases, a community dietitian will also evaluate restaurants for things like sanitation, menu quality and ingredients. For this practice, the dietitian will use his expertise to help a restaurant enhance its menu and optimize its overall performance. He might investigate a restaurant's sanitary procedures and identify any problem areas that could be a health risk. He may also comment on the healthiness of the foods served and the ingredients they contain.
Along with this, a community dietitian will sometimes assist a restaurant in developing a new menu. If he finds a considerable amount of dishes that contain unhealthy ingredients, he might work with a management team to create some healthier ones. Essentially, it's his goal to come up with great tasting foods that offer solid nutritional value as well.
In addition, he will typically perform research on an ongoing basis. Since new information on food and health is often being discovered, it's necessary for a community dietitian to stay updated on recent findings. For example, he may read scientific journals, magazines or other literature to familiarize himself with new information on health and nutrition.
In Orlando, Fla. as in many other cities across the US, community dietitians play a vital role in promoting better health and nutrition for the local population. These dedicated Orlando dietitians provide valuable information on healthy eating habits and guide individuals, schools, nursing homes, and even restaurants towards making better food choices. By staying up-to-date with the latest research, Orlando dietitians ensure they provide the most relevant and effective guidance for the well-being of the community.
AS FEATURED ON:
AS FEATURED ON:
By: stocksolutions

Community dietitians may be responsible for meal plans for everyone within a given community.

By: JorgeAlejandro

Community dietitians may work in school systems to ensure students have healthy options.

By: CandyBox Images

A community dietitian may evaluate area restaurants.

By: sattriani

A dietitian may advise against eating at buffets, which may tempt an individual to over-eat.

By: Tatty

Community dietitians can help a person struggling with under nutrition.

By: Ramon Grosso

A community dietitian may educate people about the long-term dangers of eating fatty and fried foods.

By: Creativa

A community dietitian can provide information on unhealthy foods for people to avoid.