What Does a Digital Compositor Do?
A digital compositor takes images from multiple sources and splices them together to create a seamless single image, using digital means. Compositors work in film and television production, blending anywhere from two to hundreds of images together to create a desired look and feel for a production. Many work for studios, although special effects companies also use compositors. They may learn their skills on the job or through a training program at a college or technical school, usually one that provides internship opportunities in the industry to students.
In a simple scene, a digital compositor might take shots filmed in a studio against a green screen and insert a backdrop. Care must be taken to get the lighting and movement of the backdrop correct, or the scene will look off to viewers. People watching a television drama where a police officer chases a suspect through the streets in a car, for example, expect to see street scenes through the car windows, and they need to appear consistent and realistic. If that drama was science fiction, the compositor might also need to add in an alien or spaceship to the scene. Such additions can potentially get very complex.
Film and video compositing rely on the use of programs that help a digital compositor select the desired images, adjust their properties, and blend them smoothly. The digital compositor can work in layers to tweak the fine details and get the best possible look, using the available materials. Compositors also meet with film and camera crews to discuss their needs, so the crew knows what to shoot, and what kinds of angles and lighting to use to make sure the shots will match up.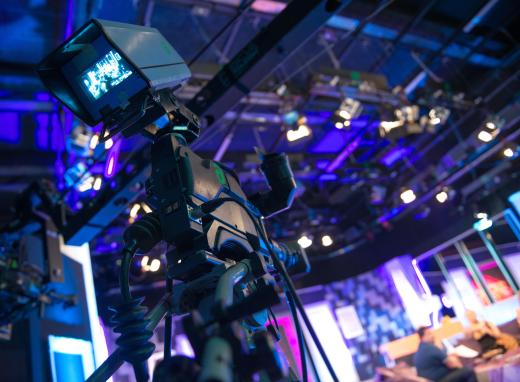 The skills of a digital compositor can allow a production to shoot in multiple locations and pull the shots together later. These might include images taken with actors on set and on location in different places, as well as film from other areas that will be used for background and atmospheric color. A film set in Berlin, for instance, might shoot elsewhere and insert a few images of Berlin for flavor, to make viewers feel like they are there.
Digital compositing work requires experience and skills. Technical schools and colleges can provide training in the software used and how to develop composited shots. A digital compositor must pull together a reel of demonstration shots, and constantly update and adjust it to include new projects and reflect new skills. People may start on the job in a variety of positions and work their way into this career if they choose not to go to school for training.
AS FEATURED ON:
AS FEATURED ON:
By: fred goldstein

A digital compositor might take shots filmed in a studio against a green screen and insert a backdrop.

By: DeshaCAM

Digital compositors work in film and TV productions.