What does a Digital Journalist do?
A digital journalist is responsible for producing Internet news stories and/or blogs. News blogs are more informal and personally written articles than journalistic stories. In addition to writing original web content for computer, or new media, audiences, a digital journalist usually supplies videos or still photographs.
Traditional print journalism involves only newspaper or magazine stories and still photos. Internet journalism includes multimedia creations, such as audio and video clips, along with website text. A digital journalist uses the equipment needed to produce audio, video, and text on an Internet newspaper's website.
Digital journalists often use the Internet as a research tool for their news stories. They must check and verify facts as well as conduct interviews either by email, on the telephone, or face-to-face. A freelance digital journalist may submit all of his or her stories to an editor by email from a remote location rather than use a newspaper office or television newsroom as a base.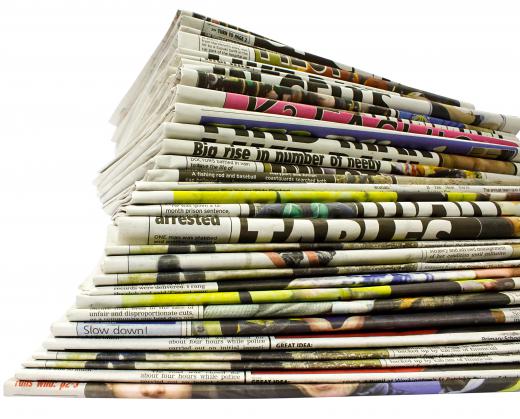 Getting story ideas and producing them to finished web copy is a main duty of digital journalists. They also may be assigned journalistic feature pieces for publication in an online newspaper. Along with writing the articles, digital journalists often must also write eye-catching headlines for their stories. While the headlines and stories may be similar to those used in print publications such as newspapers and magazines, digital journalism jobs require a different format and style.
For instance, writing for the web must be more concise than communication meant for print publications; the eye must work harder to read text on a screen. Digital journalism must be written in more compact, easy to read paragraphs. Subheads, or sub-headlines, are used more frequently in digital media journalism than the print medium. Digital journalists must carefully edit their articles for the maximum readability of the web audience.
A digital journalist produces either news stories or blogs or both. If the online news publication is based on geographic area, the journalist looks for story ideas relevant to that location. In blogs, the journalist may speak from personal experience or offer his or her opinion on news topics. In journalistic news stories, digital journalists write more objectively and report facts rather than state opinions or relate personal experiences.
One duty common to many digital journalist jobs is training others. For example, experienced digital journalists may train journalism students by assigning them stories and editing their finished work. In such cases, a digital journalists may manage a group of student writers remotely.
AS FEATURED ON:
AS FEATURED ON:
By: bloomua

Digital journalists produce news stories for websites or blogs.

By: stocksolutions

Digital journalists might distill information from print media into smaller stories to publish online.

By: wellphoto

Digital journalists require interviewing and other skills deployed by traditional print and broadcast journalists.

By: Haider Y. Abdulla

Typically, a video journalist does all or most aspects of their job independently, which may include research, shooting video, editing, and reporting.

By: maska82

Digital journalists may use the web to expand on topics feature in a publication.

By: elnariz

Digital journalists may blog about local events.

By: Gianluca Rasile

A digital journalist may conduct interviews by telephone.