What Does a Diving Instructor Do?
Using various types of technology, it is possible to explore the depths of bodies of water without having to come up for air. A self-contained underwater breathing apparatus (SCUBA) can be used, or an air hose can be tethered to the diver to provide a flow of oxygen. Some divers even explore bodies of water simply by holding their breath. In any of these situations, a diving instructor will be responsible for teaching the skills and techniques necessary to conduct these explorations safely and effectively. The diving instructor may also guide inexperienced divers on introductory dive sessions.
Before the diving instructor can take on such responsibilities, however, he or she must first become certified as an open water diver and instructor. This means he or she will undergo rigorous training that can take several years to complete. He or she will also need to spend a significant amount of time underwater in various diving situations; depending on the region of the world in which the diving instructor operates, the number of hours necessary to earn a dive certification can vary. Beyond that certification, the instructor will need to take part in various types of training, not only in diving instruction, but also in safety and first aid techniques.
Once certified, the diving instructor still may not be ready to lead diving instruction classes on his or her own. The new instructor is likely to work with a more experienced instructor for a period of time to get on the job training. Again, specific requirements can vary, depending on the region of the world in which the instructor operates. Once fully certified and trained, the diving instructor will usually work with groups of people both in the classroom and in the water to train them how to operate in various diving situations safely.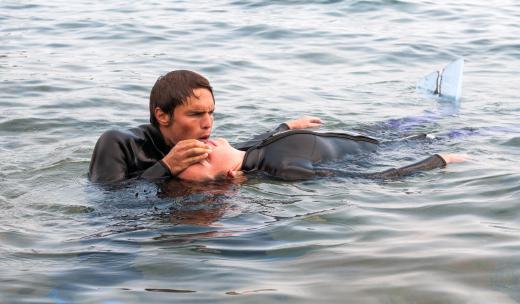 Another duty for the diving instructor may be leading tours. He or she will give new divers basic training in diving techniques, usually both in the classroom and on the water, then lead those new divers on an exploratory tour through familiar waters. The instructor will be responsible for monitoring all divers and ensuring equipment is properly used, diving times are adhered to, and all processes associated with diving are performed properly and safely. If any problems arise, the instructor will be responsible for addressing them; this may mean performing search and rescue techniques or administering first aid.
AS FEATURED ON:
AS FEATURED ON:
By: eothman

Among other things, diving instructors make sure that their students know proper underwater procedures.

By: Roy Pedersen

Diving instructors familiarize their students with first aid procedures.

By: zavgsg

A diving instructor shows students the proper use of prismatic compasses, wetsuits, dive cylinders, and other types of diving equipment.