What does a Fire Inspector do?
A fire inspector examines structures to confirm that they conform with the prevailing fire code, and that they are safe for use. Inspectors can also identify violations and make follow-up inspections to ensure that violations are addressed, and they respond to the scenes of incidents at which flammable or explosive materials may be present. Fire inspectors are also usually involved in arson and fire investigations, lending their experience to the team.
In most areas, a fire inspector is a member of the law enforcement community, which means that he or she must attend a training academy to gain knowledge and skills in the law enforcement field in addition to receiving training about fire safety and inspections. In small communities, the fire inspector may double as the fire chief or a firefighter, allowing the local government to cut costs while still having access to a qualified fire inspector.
When new construction occurs, the fire inspector must usually be allowed to inspect the building before it will be certified as safe for use. He or she may also act as a consultant in the planning phases so that the building will be built to standards. Fire inspectors are concerned with things like easy exit in case of emergency, fire suppression system in large buildings, doors which open in the appropriate direction, and safety precautions to prevent or address fires such as vent hoods for stoves. A fire inspector may also determine how many people may safely occupy a room or building.
Fire inspectors may be called out to inspect specific venues in advance of major events to confirm that these areas will be safe for use, and to help develop an evacuation and fire safety plan so that staff are prepared if there is an emergency. If an event will involve flammable or combustible materials, the fire inspector may need to inspect the systems used and discuss the way in which these materials will be used with the staff who handle them.
Abandoned and derelict buildings may periodically be examined by the fire inspector to determine whether or not they pose a fire hazard, and in some areas, fire inspectors can condemn buildings which they believe to be unsafe. Fire inspectors also routinely examine facilities where flammable and explosive substances are handled, such as gas stations and oil refineries.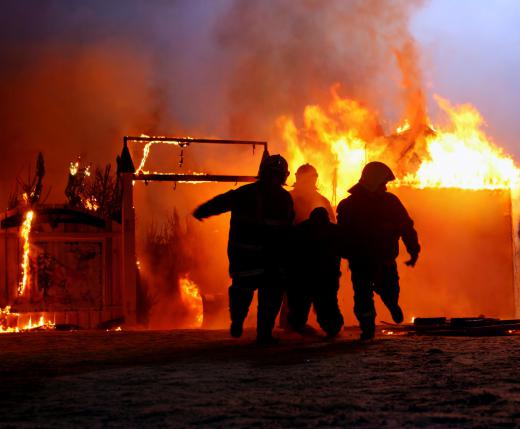 In the event of an emergency which involves fires or explosions, the fire inspector is one of the responders, and he or she will also be involved in the generation of a report about the incident and how it was handled. Fire inspectors may be held accountable if previous inspections failed to identify an issue which contributed to the development of an emergency situation.
AS FEATURED ON:
AS FEATURED ON:
By: goodween123

Fire inspectors often are part of an arson investigation.

By: francisco

Fire inspectors should be consulted when installing a new fireplace.

By: corepics

Fire inspectors in a commercial kitchen may check for proper operation of a gas stove and vent hood.

By: Tatiana Belova

Fire inspectors may be held accountable if their inspections failed to notice dangers that lead to fires or other tragedies.

By: Steve Mays

A fire inspector may examine facilities where explosive and flammable substances are handled, such as gas stations.