What does a Fire Safety Officer do?
A fire safety officer inspects commercial and industrial buildings to determine if the sites are in compliance with fire prevention codes. He is also traditionally required to investigate origins and reasons for fires at homes and businesses. A significant part of his job is public education. This requires him to create fire safety teaching programs appropriate for presentation to schools, community organizations and the general public.
Inspecting buildings for compliance requires a fire safety inspector to be proficient at reading and interpreting blueprints and building plans. The plans may be for newly-built structures or blueprints for older buildings. He is generally required to have the knowledge to spot infractions and inconsistencies in the buildings related to electrical safety standards, sprinkler systems and fire safety codes. Issuing compliance permits for fire suppression, sprinkler and alarm systems is a common responsibility for a fire safety officer.
After a fire occurs, the officer is frequently called upon to inspect the remains to determine the cause of the fire. This normally entails checking electrical systems for shorts and overloads and looking for evidence of candles or other objects that produce heat or flames that may have started the fire. Determining if smoke alarms or sprinkler systems were functioning is also commonly part of his report.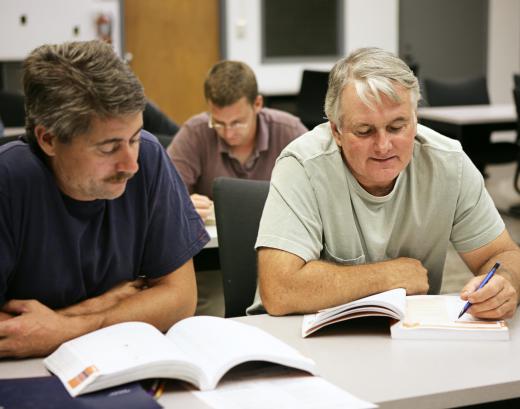 A significant part of a fire safety officer's job involves oral and written communications. He is typically expected to be comfortable speaking to large and small groups and efficiently answering questions regarding fire safety and prevention. Professional fire associations may also require him to make presentations and participate in educational seminars. He may regularly communicate with engineers, architects and contractors on fire code requirements. Detailed written reports of his inspections and investigations are frequently required as well.
In addition to communication and inspection duties, a fire safety officer is often required to establish policies and procedures for fire department personnel. These guidelines are normally based on directives developed by local and regional fire code and fire prevention agencies. The fire safety inspector's job regularly requires him to ensure the employees understand and are performing their jobs in compliance with these guiding principles.
Applicants for this position are normally required to have a high school diploma or equivalent. Completed classes in fire sciences or related subjects are often a prerequisite for consideration. Three years experience with a fire department in either a paid or volunteer capacity is a common requirement. Passing written and oral tests as well as obtaining certifications is ordinarily required to become a fire safety officer.
AS FEATURED ON:
AS FEATURED ON:
By: Serenethos

Fire safety officers may be responsible for checking if smoke detectors and other fire safety devices are in working order.

By: Lisa F. Young

Passing written and oral tests and obtaining certifications is typically required to become a fire safety officer.