What does a Fitness Manager do?
A Fitness Manager oversees the daily operations of a fitness facility, ensuring it runs smoothly. They hire and train staff, manage budgets, and develop fitness programs. They also promote health and wellness, creating a positive environment for members. How does a fitness manager contribute to your gym experience?
A fitness manager is in charge of the health and exercise programs at a fitness center or health facility. At some locations, the fitness manager also has the same tasks as a general manager or supervisor. This individual's main responsibilities are taking care of the day-to-day operations and overseeing the employees. Most people in this position usually have a background in physical education, sports management, or business administration.
One of the duties that a fitness manager has is hiring and training personnel for the gym. The manager is usually in charge of listing job openings and interviewing prospective employees. After the worker is hired, this professional would also help the employee with paperwork regarding taxes and benefits. People who work in this role often assist employees with schedules and may terminate employees if needed. Other times, this individual may need to resolve disputes between staff.
Many workout centers heavily rely on the fitness manager to market the gym and get new clients. Sometimes this employee may have to create or give input on marketing materials for fliers and brochures. The manager may come up with ideas for discounts and specials during the month and keep up with the data to see if the process generated additional revenue.
Customer service is also a crucial part of what a fitness manager does every day. This individual usually greets people when they come in or may walk around and see if the clients need anything. It is up to this person to make sure that clients are satisfied with their experience at the facility and that they return. Typically, managers are also responsible for helping customers with billing issues, following up on client complaints, and listening to suggestions for the center. Many managers answer questions about the classes and provide information about optional services at the gym.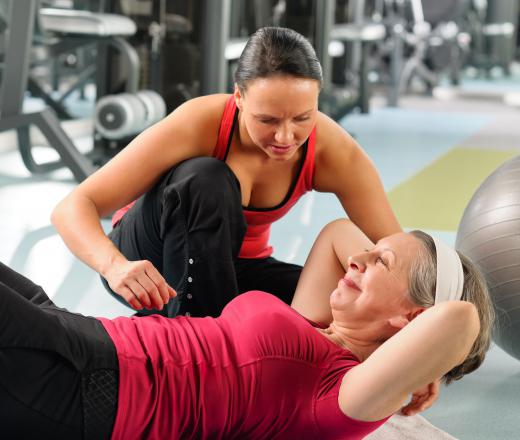 Another task that a fitness manager has is making sure that machines and other equipment at the facility are available and in working order. This person may see that the workout machines are cleaned every day and that weights are put back in their proper place. Since some facilities allow large groups to hold meetings at the center, the manager may also be in charge of setting up rooms and taking deposits.
Most managers generally have experience in other areas of physical fitness and might teach one or two classes. This staff member may host several cardio classes or even teach swimming at facilities that have pools. Other managers may offer personalized services, such as personal training or nutrition.
AS FEATURED ON:
AS FEATURED ON:
By: norinori303

Fitness managers are in charge of gym operations and exercise programs.

By: Syda Productions

Fitness managers generally have experience teaching fitness classes.

By: CandyBox Images

A fitness manager oversees personal trainers at a gym.

By: godfer

A fitness manager at a beach retreat may teach yoga and meditation classes.

By: Shmel

Fitness managers may have a background in physical education.