What Does a Forest Engineer Do?
A forest engineer is a type of civil engineer and needs a solid foundation in civil, mechanical and forest engineering to work in industries such as forestry. Forest engineers plan and design various projects that affect forests, including forestry management, the clearing of logs from timberland and the construction of roads and other structures that allow access for forestry projects. These engineers also do surveying, manage projects and, in some cases, deal with the public. They also may work as consultants giving advice during construction.
A forest engineer needs to have at least a bachelor's degree or a professional degree before he or she begins work. Analyzing survey reports; reading maps, drawings and blueprints; and interpreting aerial photography and other geologic data is part of the job for a forest engineer. Other skills that are learned in school include how to use drawing tools and design software to plan and design hydraulic or transportation systems that conform to government and construction standards.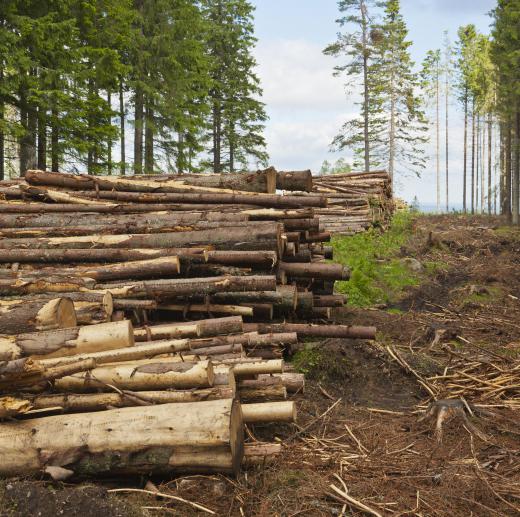 There are many structures that have an impact on forests, and a forest engineer may be in charge of ensuring that society's needs are met while the natural environment also is protected. Forest engineers are in charge of planning and directing the construction of water and sewage systems, culverts, bridges, equipment shelters, loading docks and campsites. They also may be in charge of planning are railroads, roads, airports, harbors, dams, irrigation projects and power plants on or near forested land. Structures, machines and operations for forestry and wood product manufacturing also are overseen by forest engineers.
Overseeing projects can involve managing and directing staff or estimating how much a project is going to cost and staying within that budget. Many forest engineers who oversee projects also are in charge of ensuring that the projects are progressing according to schedule. Safety and sanitation standards have to be met. Everything about a project must follow regulations and the forest engineer is in charge of ensuring that each project does.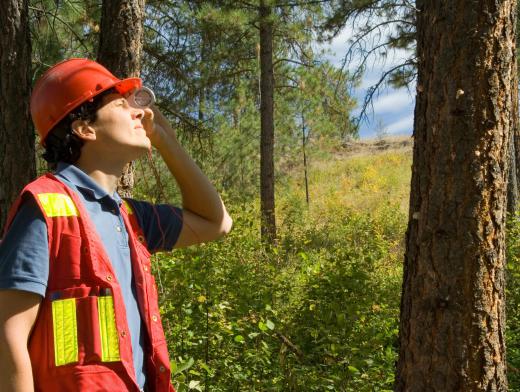 A forest engineer is often in charge of surveying and may do the survey himself. Surveying is done to establish grades, reference points and elevations that will aid in construction and in installation layouts. Tests may be done during surveying to check soil and other materials to make sure foundations, asphalt, steel and concrete are strong and stable enough for the project.
By law, the public has the right to know what is being built, when it is being built and where. Forest engineers study such issues as environmental conditions and traffic patterns to see what sort of impact a new project may have. An engineer may then prepare or present a report to the public. These reports can range from bid proposals to environmental impact statements.
AS FEATURED ON:
AS FEATURED ON:
By: Lars Johansson

Forest engineers often work for logging companies.

By: deberarr

Forest engineers make sure that the natural environment is protected.

By: TreePhoto

A forest engineer may provide study and expertise when roadways are planned for wooded areas.