A forester is a biologist who is specially trained to manage the natural resources in forests. Foresters have a wide range of job responsibilities, ranging from the creation of Timber Harvest Plans (THPs) for areas about to be logged to organizing and protecting reserves and parks. For people who like to work outdoors, forestry is a great career. Foresters spend much of their time outside working in the woods, and they work to preserve the valuable resources in their regions for future generations to enjoy.
The forestry profession is quite ancient. Early foresters worked during the medieval era, guarding royal forests and organizing harvest plans to collect trees in a reasonably sustainable way. Medieval foresters also protected land from poachers, organized hunts, and kept track of game and other wildlife in the forests that they supervised. Many of these tasks are retained in modern forestry, although the profession is less about law enforcement and more about resource protection today.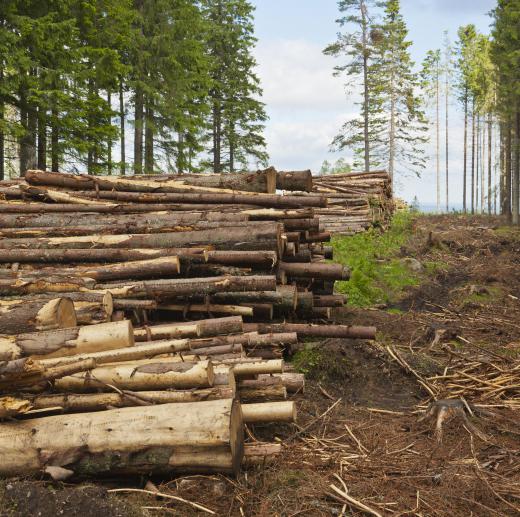 A forester can work in a number of different positions. Some foresters work for timber companies, in which case they assess forests owned or controlled by the timber company. Foresters in the timber industry decide whether or not it is safe to harvest trees, and they look at the ecological impact of timber harvesting to determine whether or not a THP would be approved. A timber forester also marks trees for harvest, and keeps track of yields on timber company land.
A conservation forester tends to focus more on ecosystem and watershed preservation in forested regions. These foresters conduct surveys of regional plants and animals, and look at the impact of human activity on the forests that they work in. Conservation foresters may support timber harvesting when it is practiced sustainably, but they also work to create protected areas so that people can enjoy nature.
In some parts of the world, a forester has immense power because governments have recognized the intrinsic value of forests. In Japan, for example, an extensive timber management program has been practiced for hundreds of years to protect the historically, ecologically, and economically important forests of Japan. Foresters also work in regions which have experienced resource depletion, in the hopes of restoring the natural forests and environments in these countries.
Someone who wants to become a forester must generally take a degree in forestry. The degree includes extensive study in biology, along with an analysis of the economic and cultural value of forests. A certified forester who has passed specific exams can earn a very respectable salary in return for his or her services.
AS FEATURED ON:
AS FEATURED ON:
By: Lars Johansson

Forestry involves managing and developing forests.

By: deberarr

A conservation forester creates protected areas so people can enjoy nature.

By: Mark Rasmussen

The some aspects of forest industry are concerned with the maintenance of hiking trails.