What does a Freelance Typist do?
A freelance typist is a typist who works independently, taking in project work as it becomes available. Computers are in much more widespread use, resulting in less of a demand for freelance typists than there once was, as people can do their own typing, but these professionals can still fill a valuable niche. Freelance typists generally have very high words per minute and accuracy rates, and they may have additional training which allows them to take on special types of jobs, such as transcriptions of medical files.
Some freelance typists work at home, taking on typing work which can include manuscript preparation, typing of academic papers, and data entry. Others work in offices, taking temporary positions to fulfill typing needs like data entry in an office environment. Some freelance typists have established relationships with a number of repeat clients whom they rely upon for business, while others are constantly working with new clients. A freelance typist is usually always on the lookout for new clients and connections.
Like other forms of freelance work, freelance typing can be a challenging career. A freelance typist must be self-motivated and able to establish a workable schedule if he or she works at home. Freelance typists also have to be aggressive about finding jobs, using social networks, advertising, and other tools to ensure that they have a consistent flow of work. Freelance typist jobs can sometimes be hard to find, because potential employers do not always know where to look or advertise, and it helps to have connections such as clients who will make recommendations to other potential clients.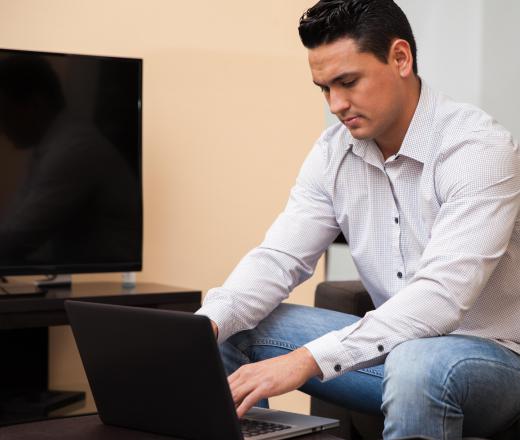 Someone who wants to work as a freelance typist may want to get a typing certification attesting to typing skills. With this certification, a freelancer can apply for typist job openings, and promote him or herself to companies which may require typing services. It may also help to start out at a temp agency which will guarantee steady employment before striking out independently as a freelancer.
A variety of Internet companies offer assistance to people who are interested in freelance typing and work from home jobs. People should be careful about entering into arrangements with such companies. While some are entirely legitimate, others are scams. Some signs that a company may be a scam include fees to join, fees for proprietary software, and lack of contact information. Before making a commitment to join a company which offers to connect freelance typists with clients, it can be a good idea to check with a business rating organization to get more information about the company in question.
AS FEATURED ON:
AS FEATURED ON:
By: taa22

Freelance typists transcribe written material for businesses and individuals on a contract by contract basis.

By: AntonioDiaz

Freelance typist jobs are often sought after because they typically allow people to work from home.

By: V&P Photo Studio

Online typists might create documents for busy clients.