What does a GIS Specialist do?
A geographic information systems specialist, sometimes simply known as a "GIS specialist," is a person who uses computer programs in conjunction with geographic data sets to organize and display information related to land into a format that is useful for consumers or researchers. There is a lot of breadth to this field, and specialists can be engaged in a variety of different day-to-day jobs. Some examine land formations and boundary lines to create searchable databases for land use planners, for instance, while others use road data to create interactive mapping programs; still more tabulate changing measurements like soil density or river erosion for environmentalists and conservation organizations. People with this sort of specialization can do a lot of different things, but in nearly all cases their work involves turning geographical data into a useable and easily understood digital format.
The Field in General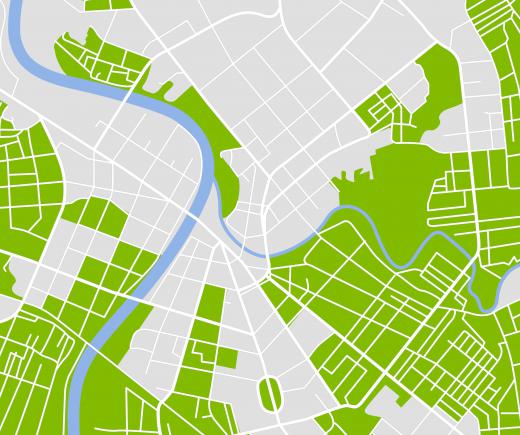 The ability of computer systems to process and manipulate complex data has provided geographers new ways to compare related statistics and incorporate them into functional maps. GIS is a practical application of geographic information science, which in turn is the part of geography that is most concerned with the best means of providing spatial and geostatistical data in a usable format. People in this field usually have some background in geography or geology, but their primary expertise is usually in computer engineering. Most of the work concerns digitization, which is essentially translating fixed points of raw land-based data into code that can be manipulated and reconfigured on a computer, tablet, or smartphone. In some cases the specialist is responsible for actually collecting the raw data in the first place, but not always.
Software Essentials
Prior to the advent of computer systems and specialized GIS software, the amount of data that could be shown on a map — the basic tool of a geographer — was limited by space and ease of use. Special software can access databases that contain many statistics and can turn them into customizable maps. Demographic, economic, and terrain features are a few of the data sets that can be manipulated in a GIS system. A specialist can tell the software what type of data to display at any given time and on what scale to achieve a better picture of how the various statistics interact with each another.
There are a number of different specific software programs available. Some companies have developed their own proprietary systems, while others depend on third-party platforms. There also tend to be a number of basic GIS programs in a format known as "open source," which is essentially free and easily adaptable to a range of different uses. Open source often requires a bit of coding expertise in order to get started, but in most cases can compete with more expensive proprietary models.
Types of Job Setting
A GIS specialist can be employed in virtually any industry that has a vested interest in better understanding the interactions of demographics, terrain, and regional infrastructure while optimizing business practices. While traditionally the field concerns land mass and infrastructure, it can be adapted to things like population and general demographics of people who live in or work in a certain area, too. The most important thing for a specialist to have is knowledge of the computer coding that underlies the process no matter the specifics of the raw data.
A manufacturer might hire this sort of professional, for instance, when it is looking to build a new facility, since the specialist could determine where it would be best to build a facility to take advantage of natural resources, road networks, or a skilled workforce. A retail chain or restaurant that wants to expand might also hire this sort of person to help executives understand the competition in a given city and the average income of the city's residents. By the same token, a governmental agency involved in environmental regulation might want to see how a proposed development could impact the migration patterns of wildlife in the area.
In each case, a specialist using GIS software would most likely be the expert to assess these questions and produce maps and reports based on available statistics. The specifics of each job would certainly be different, but the core skills and basic premise would be the same.
Education and Training
In most cases the best way to break into this field is to earn an undergraduate university degree in geography, or in computer engineering and coding with a coursework emphasis on the natural sciences or spatial statistics. More advanced jobs may also require candidates to hold master's degrees or higher with a specific certification in geographic information systems. In many instances this certification is more important than the specifics of a person's degree.
People can often seek this sort of credentialing with a university degree in almost anything. Certification is usually somewhat rigorous, and usually involves a series of tests and real-time performance evaluations. The rules and specifications can vary depending on location. In the United States, the GIS Certification Institute is one group that offers a certification program.
AS FEATURED ON:
AS FEATURED ON:
By: Nataly-Nete

GIS specialist create digital maps that contain spatial data in a usable format.

By: nyul

GIS specialists typically work in an office setting.

By: eliaskordelakos

GIS software is often used by people who work in ecology and the environmental sciences.

By: Andrew Barker

GIS specialists translate land-based data into code that can be reconfigured using computers or smartphones.

By: Minerva Studio

GIS software can be used on tablet devices.