What Does a Glass Engineer Do?
A glass engineer designs, tests, and implements processes to create various types of glass products, from windows to glassware. They use their expertise in materials science and engineering principles to innovate and improve glass production. Intrigued? How do you think this impacts our daily lives?
Glass engineering is a specialty branch of materials engineering that focuses on the design of glass, ceramics, and related composites. Professionals in this field design and test new materials that can be used in place of traditional glass in applications where enhanced performance or strength may be required. A glass engineer may also develop new equipment that can be used to improve the glass or ceramic production process. Some glass engineers specialize in manufacturing, where they oversee the production of glass-related structures or products. Others are responsible for teaching this subject, either in a classroom setting or in the form of training in a factory or workplace.
Many glass engineers focus on research and development, where they develop new materials and technologies to improve the glass industry. They experiment with existing materials to make them stronger or help them perform better, and blend new glass and ceramic composites to suit the needs of different types of projects. In research and development positions, a glass engineer also creates models or test structures for testing purposes, to see if they can stand up against certain types of forces, temperatures or other factors.
In the manufacturing field, glass engineers design the factories and equipment used to produce glass and ceramic products. This includes developing new machinery that is capable of processing raw materials and producing glass more quickly, or coming up with techniques to improve the production process. A glass engineer also advises companies on the best way to layout equipment within the factory to maximize production, and help to train employees to use equipment properly. These professionals also install and maintain equipment to ensure it performs as it should.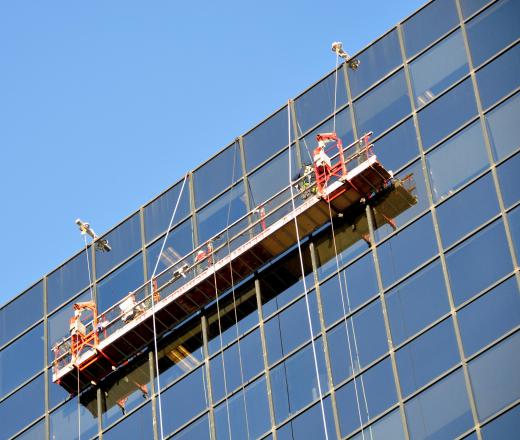 A glass engineer may design products used in construction and manufacturing. For example, buildings with glass exteriors or large glass surfaces typically require extensive input from a glass engineer. The engineer ensures that the materials will be assembled in a way that keeps water and air out, yet are strong and durable enough to withstand normal building forces. Glass engineers in the manufacturing field also develop products used in electronics, fiber optics, and automotive production.
In order to pursue a career in glass engineering, candidates must complete an undergraduate or graduate degree in materials engineering or a similar field. They should be capable of reading glass engineering drawings, and recreating these types of drawings to help describe a new product. It is also helpful to stay abreast of new developments and technologies in the glass and ceramic industry, and to understand all applicable safety code and standards that impact this field.
AS FEATURED ON:
AS FEATURED ON:
By: laurent dambies

Sheets of glass.

By: Jeff

Buildings with glass surfaces require the input of a glass engineer.

By: Marzky Ragsac Jr.

Glass engineering is a specialty branch of materials engineering that focuses on the design of glass, ceramics, and related composites.