What Does a Help Desk Administrator Do?
A help desk administrator's main job is to help employees resolve computer problems. Administrators typically have access to all of a company's servers and shared drives and are experts at troubleshooting and customer service. When employees have technological problems, their first step is usually to call the help desk, where an administrator is expected to listen to the problem and then find a solution, whether over the phone or in person.
Nearly every organization with a computer mainframe has a help desk. Almost all computers malfunction at some point, and the chances of things going wrong tend to increase when computers are linked together and asked to run multiple programs at once. Most companies employ teams of help desk staff to be regularly on call to handle technology troubles. Smaller companies may outsource help desk administrator jobs, often subscribing to services offered by their Internet service provider or account operator.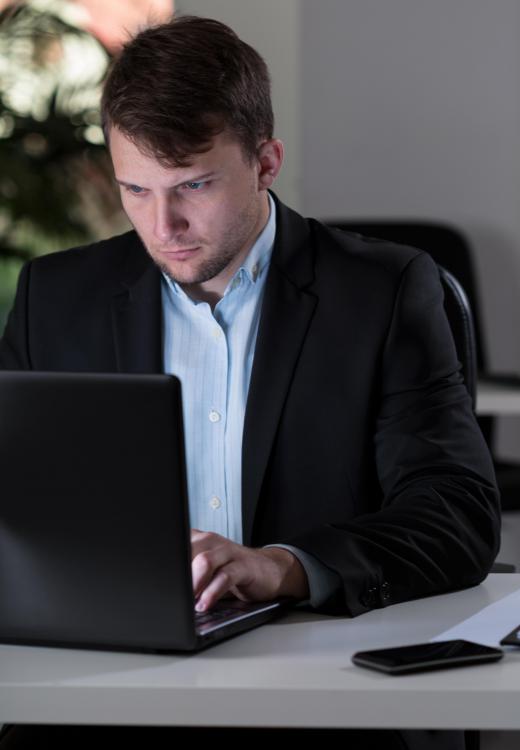 The primary requirements for this job are a practical understanding of how computer networks work, an ability to quickly troubleshoot problems, and excellent customer service skills. When employees call the help desk, they are usually frustrated. An administrator needs to be able to politely deal with the employee while at the same time fixing the problem.
Sometimes, the job is as easy as helping an employee reset a password or restore web settings after a hard drive or web browser crash. Other requests can be incredibly complicated, however, and often involve in-person visits. Collaboration with other help desk employees in order to find a solution may be required.
In traditional set-ups, a help desk administrator works as a member of the company's tech support team. The administrators are usually responsible both for answering help desk phone calls as well as taking proactive steps to ensure network integrity and safety. Non-troubleshooting duties often include installing security patches, updating spam filters and anti-virus software, and monitoring suspicious Internet activity.
The specifics of what is involved in this job can vary widely, depending on the supporting organization. Day-to-day aspects of the job are often very different in a large company than in a small one, and the nature and age of internal mainframes will also necessarily influence the nature of the job. In nearly all cases, these administrators are tech-savvy support personnel without whom corporate life in today's wired world might slow dramatically.
AS FEATURED ON:
AS FEATURED ON:
By: Photographee.eu

A help desk administrator's main job is to help employees resolve computer problems.