What does a Horse Trainer do?
The job of a horse trainer is a multifaceted one. Some trainers are expected to act as barn managers in addition to training duties, while other trainers only care for the animals in their charge. Overall, the tasks of a horse trainer include training, exercising, and ensuring the complete and total health of all assigned horses.
Horse trainers are largely responsible for nearly every aspect of a horse's life. Many trainers work with the same group of horses for many years. In addition, a trainer must be willing to work as part of a team, since trainers will often be required to work closely with barn managers, foremen, and assistant trainers. Thus, good communication skills are a vast part of this occupation.
Specifically, a horse trainer must know how to develop exercise routines, create schedules, perform undersaddle and ground work, and correct natural behavioral problems. Due to the nature of this occupation, trainers must have prior experience dealing with horses before a horse trainer position can be obtained.
Experience that may qualify a person for the position of a horse trainer includes professional riding experience, former training, or an educational background in veterinarian medicine. Also, it is not uncommon for a trainer to attain on-the-job experience by working as an apprentice or a stable hand.
While formal schooling isn't required in order to become a trainer, those aspiring to work with horses may want to consider special courses. Frequently, horse farms offer courses that pertain strictly to horse training. These courses will often help aspiring trainers to gain a well-paid training position.
Those with training experience can find job openings by applying directly to farms in need of trainers. On occasion, horse trainer positions are posted at job centers, though this is rather rare. Trainers who work with specific types of horses may also have an upper hand when it comes to securing a rare training position. Breeders that seek specialized trainers will often hire those with extensive breed-specific experience.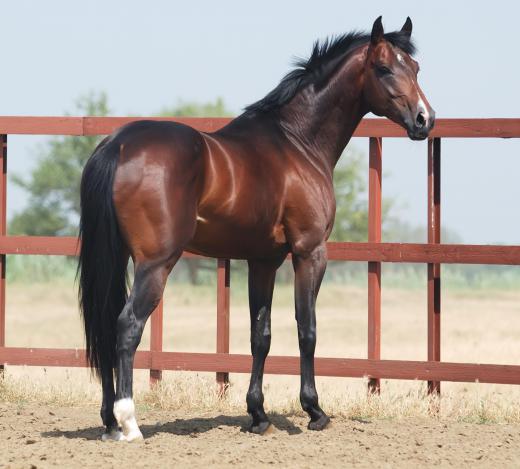 Any person wishing to work with animals should posses a variety of attributes including patience, understanding, reliable intuition, and the ability to analyze difficult situations clearly and rationally. Those drawn to this profession often have a passion for working with animals. In addition to practical tasks, trainers may also be asked to perform administrative duties. Thus, experience with computers, filing, and merchandise ordering may be useful.
AS FEATURED ON:
AS FEATURED ON:
By: Thierry RYO

Racehorse.

By: Wildcat

A horse trainer must have a love of horses.

By: dozornaya

Horse farms may offer training courses.