What does a Human Resources Manager do?
A human resources manager's main job is to coordinate a corporation's workforce, including hiring, firing, and interpersonal relations. He or she establishes policies and a framework for dealing with employees, serves as the go-to person for questions about benefits, and is often called on to settle disputes or problems among staff. Depending on the size of the company, the HR manager may also be in charge of coordinating other human resources officers, assigning them tasks and ensuring that they are on track with their work.
Role Within a Corporation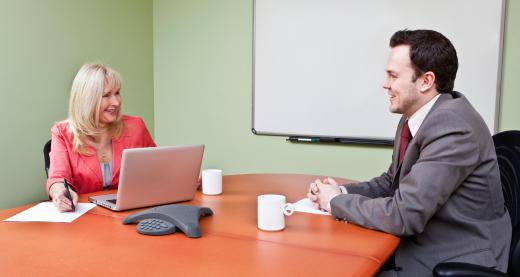 Any company, large or small, depends upon its employees for success. Human resources managers are the people in charge of ensuring that the right employees are recruited, hired, and trained. They are usually considered at the same level as executive officers, and are often included in major corporate decisions. An HR manager's expertise about employee needs is often highly sought after when it comes to shaping a company's trajectory.
The precise role of an HR manager necessarily varies depending on the setting, and a manager's job is usually tailored to the needs of the parent company. Managers at small Internet start-ups may spend most of their time recruiting the most qualified, technologically savvy employees, for instance, while the same person at a global corporation may be chiefly concerned with ensuring that hiring and firing practices comply with the laws of every country where there is a business presence. At its core, though, the job of any HR manager is the same — namely, to set and enforce healthy employee-employer relations.
Hiring Duties
One of the most important things a human resources manager does is set policies for hiring and recruitment. He or she is usually responsible for writing up job postings and advertisements when there are slots to be filled, and may also be responsible for creating new positions when needed. The manager is usually the person to whom resume and application materials are addressed, as well.
Human resources managers usually dictate the company's interview process, and make decisions with respect to how many candidates are offered interviews and the sort of questions that should be asked. Most of the actual interviewing is left up to others, however. The manager typically meets with the final candidates, and usually has the decisive vote when it comes to hiring decisions — but the work of actually narrowing down the pool is typically the responsibility of lower-ranking HR officers.
Day-to-Day Employee Interactions
An HR manager is typically in charge of administering a company's benefits program, including health insurance and other perks like subsidized child care or transportation vouchers. This often includes negotiating with service providers, and creating competitive rates packages. Managers often set up training sessions to familiarize employees with the different options available, and must keep track of expenditures and claims. Savvy record-keeping is an essential skill.
Personnel disputes also come within the manager's domain. Settling allegations of sexual harassment, mitigating personality conflicts, and investigating disputes over working conditions or forced overtime are all part of the job.
Work With Other HR Staff
In very small companies, a human resources manager may be the only human resources officer on staff. Larger companies usually employ this person to oversee an entire division, however. In these cases, the job may require as much oversight as it does initial policy creation. Managers assign tasks and projects to other HR officers, and ensure that everyone in the division is working towards the same goals.
Required Training and Experience
HR managers almost always hold at least a bachelor's degree, and typically come into their jobs with several years' experience handling personnel matters. In many companies, managers are promoted out of the regular HR department. It is very unusual for a person to become a human resources manager right out of school because, like any senior-level position, experience is almost always required to do the job effectively.
Many of the most sought-after managers also hold credentials from local or national HR organizations. Credentials are usually awarded on the basis of additional training, and convey a certain level or expertise that many employers find desirable.
AS FEATURED ON:
AS FEATURED ON:
By: imageegami

A human resources manager may conduct interviews.

By: vgstudio

Human resource managers typically are in charge of staff evaluations.

By: nyul

An HR manager is typically in charge of administering a company's benefits program.

By: paylessimages

A human resources manager will investigate allegations of sexual harassment.

By: Kzenon

Human resources managers might have to deal with office rumors.

By: JPC-PROD

Human resources managers are often in charge of new employee recruitment.

By: kanzefar

Human resource managers may be responsible for leading new hire orientation sessions.