What does a Human Resources Specialist do?
A human resources specialist manages a certain division of labor relations within a large company. A professional might specialize in hiring or training new employees, managing compensation and benefits, handling employee concerns and disputes, or improving company policies. Depending on the size and nature of a corporation, a specialist might work directly with employees or supervise a team of junior human resources workers and assistants.
Skilled, well-trained employees are essential to the success of a company. A hiring specialist is responsible for advertising job openings, recruiting applicants, perusing resumes, and conducting interviews. He or she determines where an individual would best fit within the company and establishes pay and hours. Another human resources specialist usually provides explicit training to new employees, either on the job or in a classroom setting to ensure that workers become familiar with policies, duties, and equipment.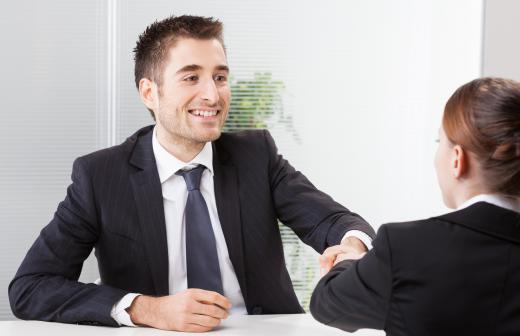 Employees depend on an efficient human resources specialist to oversee payroll and benefits packages. One or more specialists at a company set wages, maintain accurate employee files, check time cards, and keep track of benefits. A professional might help employees set up health and life insurance plans, create pensions, and agree on pay scales. Compensation and benefits specialists must be very organized, as they are frequently responsible for managing records for dozens or even hundreds of different employees.
Other specialists evaluate employee performance, address concerns, and communicate with management. They may watch individuals as they work or conduct periodic interviews to address performance issues. When an employee has a concern about a specific policy or coworker, he or she usually informs a human resources specialist, who can analyze the situation and help organize a solution. Problems that cannot be immediately resolved are brought to the attention of management.
An individual who wants to become a human resources specialist can pursue a bachelor's degree or higher in labor relations, business administration, or a related subject. Some successful human resources workers are able to obtain specialist jobs by gaining sufficient experience in a company. Many new and established professionals choose to gain certification in their specialties to improve their credentials and bring about job opportunities. Certification is offered by several nationally recognized organizations, including the Society for Human Resource Management in the United States.
Established, educated human resources specialists are often awarded with many advancement opportunities. An individual who has proven his or her skills may be promoted to human resources director, an esteemed and well-paying position. The director acts as the supervisor and authority to all other specialists and human resources workers in a company. Some professionals with strong business sense and years of experience can even become general managers or top executives within a corporation.
By: nyul

Human resources specialists hire or train new employees, manage compensation and benefits, handle employee concerns and disputes, and improve company policies.

By: chagin

Human resource specialists can work directly with employees or supervise a team.

By: albertobogo

A human resource specialist who focuses on hiring for a company is responsible for tasks such as advertising job openings, recruiting applicants, perusing resumes, and conducting interviews.

By: vgstudio

Some human resource specialists may be responsible for evaluating employee performance and addressing the concerns of employees or management.

By: Syda Productions

Human resources specialists may draw up employee contracts.