What Does a Lead Scientist Do?
The role of a lead scientist can be quite challenging depending on the industry he or she is in. Typically, they are very highly qualified and have a great deal of experience in their fields. They may take on a variety of responsibilities such as managing a team of specialized research scientists, achieving technical goals, and representing the company or institution at global conferences. They also author papers for publication in peer-reviewed journals, engage in clinical trials, and help in publishing the results of all research projects.
A person applying for the job of a lead scientist needs to have a PhD or an advanced degree with proven expertise in his or her area of research. They need to know how to take an idea from the laboratory stage to the product stage. Equipped with strong interpersonal, problem-solving, and communication skills, the lead scientist must be ready to take on the responsibility of communicating with marketing, engineering, and clinical staff. If they work in corporations, they may directly report to CEOs.
Primarily, they build and lead groups of researchers toward clearly defined goals. In a corporate setting, they need to be able to understand customer requirements and develop new technologies in response. Aside from being technical leads and directing research efforts, they also need to understand the long-term business goals of the company and meet them. They actively engage in the development of new protocols, data acquisition, and interpretation of the results.
If a lead scientist works on developing a product, he or she is involved in every stage of the product development cycle. They may take on multiple projects and define the scope, course of action, and project objectives for each. They are also responsible for assessing market needs and generating new ideas to meet them. Aside from developing technical documentation for investors and customers, they also play roles in developing technology cost projections and cost estimates for all the research projects.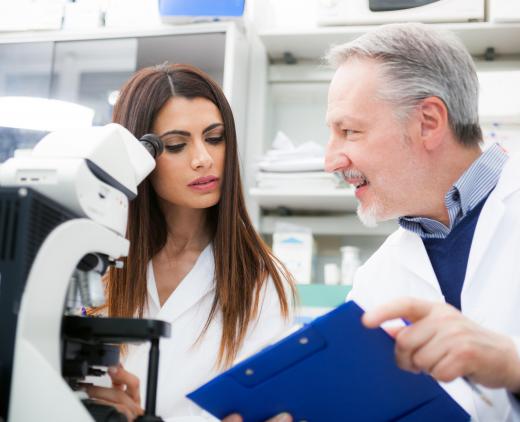 Some scientists may need to know the process of applying for international patents and be aware of intellectual property protection issues. They need to be aware of and sometimes even redefine the overall research and development agenda of the institution or company. Aside from guiding and supporting project members, they may also need to review and manage grant opportunities. They manage any external research collaborations and hire or mentor new team members when necessary.
A lead scientist has a very exciting role because he or she stays on top of the latest scientific advancements in the field. Not only do they get to participate in new research hands-on, but they also get to direct future research efforts. They evaluate new product research strategies and may even design new experiments to test out novel ideas. They may be required to present their findings at scientific conferences or write proposals for funding efforts.
AS FEATURED ON:
AS FEATURED ON:
By: kasto

A lead scientist is involved with every stage of product development.

By: JackF

Research conducted by a lead scientist may involve analysis of blood samples.

By: Minerva Studio

A lead scientist typically engages in clinical trials and helps publish the results of research projects.