What Does a Leasing Consultant Do?
People who are interested in renting either commercial or residential property often do so by talking to a leasing consultant. This individual is responsible for seeking people to fill vacancies in apartment complexes, vacation homes, or shopping centers. She might do so by advertising these vacancies, accepting applications from would-be tenants, and negotiating the terms of a contract with them. A high school diploma is generally all the education needed for one of these jobs, but a certificate in real estate management or sales could also be helpful.
The main job of a leasing consultant job is to seek clients who are interested in renting property. This might be for residential properties, such as an apartment building or rental home. A consultant could also be responsible for renting retail space, flea market booths, or office buildings to business owners.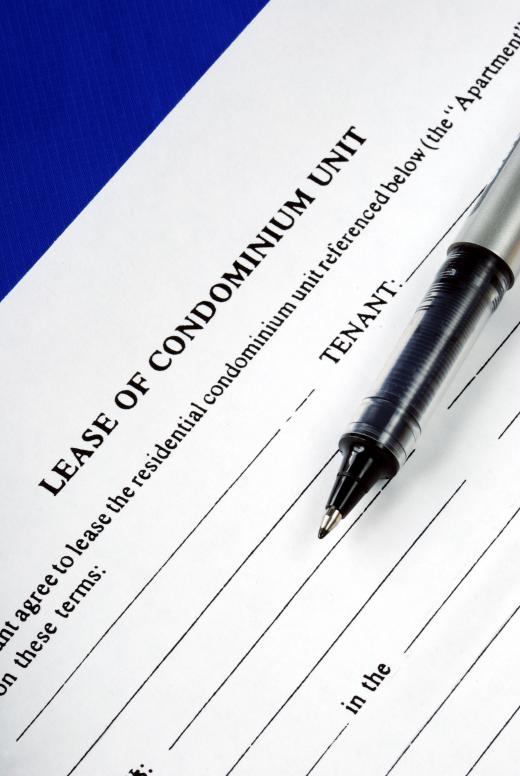 Once potential renters have been identified, the leasing consultant will typically meet with these individuals to see if they are a good fit for the property owner. One of the things that is normally done is to ask the candidates to fill out an application and provide references for her to contact. This could also involve performing a credit check and background screening, especially if the application is for renting an apartment.
The terms of a property lease are often negotiable, so bargaining with potential tenants may be one of the leasing consultant duties. Some of the factors that may be discussed could include the amount of rent, due date for payments, and length of the contract. In some cases, the agent may be responsible for creating or modifying a contract, so it is helpful for people to work in this capacity to understand how to properly draft one of these documents.
Leasing consultant duties are not necessarily complete once the contract has been signed by a tenant. Some leasing companies may require her to have periodic contact with renters to ensure there are no violations of the lease. In many instances, she may be called on to collect rent payments and serve eviction notices to those who fail to pay as promised.
The only education generally needed for a leasing consultant job is a high school diploma or its equivalents. Excellent communication skills and an ability to meet deadlines are also essential for this position. People who have a background in real estate sales or who have managed their own rental property may also be successful in this career field.
AS FEATURED ON:
AS FEATURED ON:
By: JohnKwan

A condo lease agreement.

By: Monkey Business

A leasing consultant might be called upon to rent a house.

By: pds209

A leasing consultant may be responsible for renting office buildings to business owners.

By: JackF

A leasing consultant may be responsible for renting retail space, such as flea market booths.

By: goodluz

Because many leasing consultants spend most of their time talking to potential renters, they should be comfortable with and excel at speaking on the phone.