What Does a Lens Grinder Do?
A lens grinder is a person who cuts, grinds, or otherwise shapes lens blanks for eyeglasses or contact lenses. The lens grinder will use specific machinery that is usually computer-operated in order to make precision cuts and grinds to the specifications of a customer's prescription. The grinder will usually work in an optical lab, though others may work independently or at an eyeglass store. In many areas, no specific level of education is necessary to become a grinder, though in other areas, a person will probably need to complete a high school education as well as a certificate program.
Apprenticeships are also available to help a candidate become a lens grinder, though such apprenticeships usually require that person to complete a high school education. Basic math and communication skills will be necessary in order to become a lens grinder, so candidates with a high school education are at an advantage. Certificate programs are usually offered by community colleges or technical colleges; these programs are designed to give the student the skills necessary to operate complex machinery or other tools used in the grinding and cutting process. This certification will help the job candidate secure a position within the field; some employers will require certification, while others will allow the employee to work toward certification during an apprenticeship.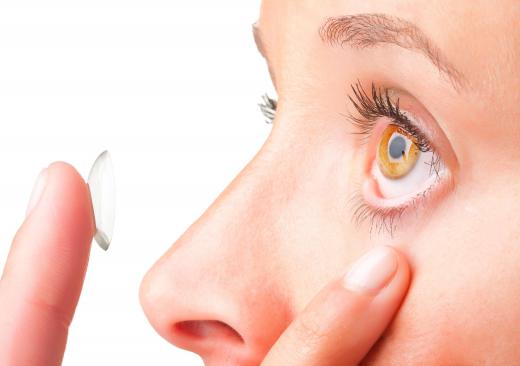 Once eyeglass frames are ground and built to specifications, the lens grinder must shape the lens to be fitted into a specific style and shape of eyeglass frame. This requires skill and knowledge of how to properly use the tools, and the lens grinder must ensure the lenses are secured properly using the correct mounting methods. Grinders are also responsible for repairing damaged lenses and frames, polishing or otherwise cleaning lenses, assessing prescriptions and work orders, and attaching any accessories such as nose pads or ear pieces.
Part of the process of lens grinding is selecting the appropriate materials and marking those materials for grinding. Glass and plastic lenses are most common, and the lens grinder will need to learn how to work with each material safely and effectively. The grinder will learn how to mark lenses to indicate where cutting and grinding must occur, and he or she will also learn how to polish the lenses to eliminate scratches, clouding, and other damage that can obscure regular vision. Maintenance of the machines used in the grinding process may also be the responsibility of the grinder.
AS FEATURED ON:
AS FEATURED ON:
By: ruigsantos

Lens grinders can shape contact lenses.

By: nito

A lens grinder is a person who cuts, grinds, or otherwise shapes lens blanks for eyeglasses or contact lenses.